Times Square Will Be Closed This New Year's Eve — Except For Some Frontline Workers
The famously packed Times Square will be shut down to the public except for broadcasters, performers, and essential employees who worked on the frontlines of the pandemic.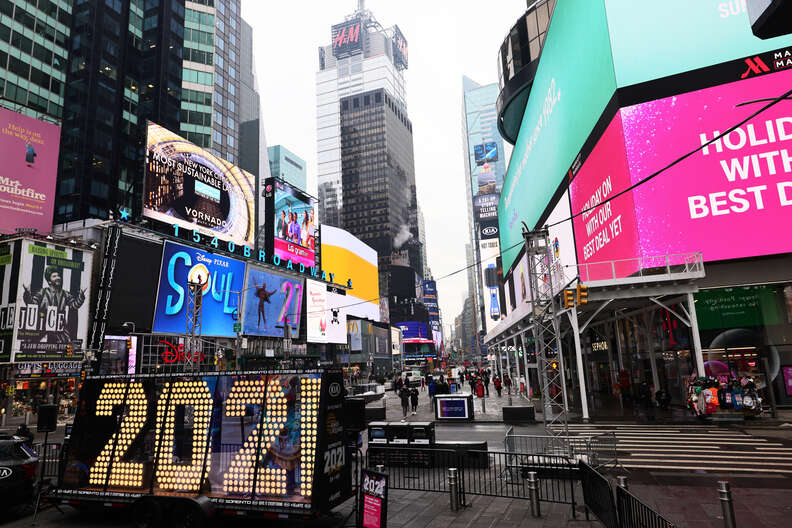 Instead of massive crowds tightly packed under the fluorescent lights watching a night of performances before the giant crystal ball drops, a small group of essential workers will be the only guests who can attend the famous New Year's Eve celebration in Times Square.
On Wednesday, the New York Police Department announced it would be closing off several blocks around Times Square and clearing out tourists and pedestrians starting at midnight, as COVID-19 continues to infect hundreds of thousands of people nationwide.
Police are also warning people not to "even attempt to come down there to watch" the ball drop.
This year, Times Square New Year's Eve organizers announced it would ring in 2021 by recognizing the frontline workers who provided essential services throughout 2020 during the ongoing pandemic. The organizers are calling them "Heroes of 2020" and will honor people nationwide. Around 40 essential workers who are local to New York were selected to safely attend in-person in Times Square, according to The New York Times. Some of those workers include doctors, delivery workers, and other frontline workers.
One worker selected to attend, Ronald Colbert, a Staten Island Ferry operator who worked throughout the pandemic, told the New York Times that this would be his 40th ball drop.
"I am just so honored and happy," said Colbert. "The elements of the excitement that Times Square offers — I get to share that again."
For more than 100 years, Times Square has been a prominent location for New Year's Eve performances and celebrations. The ball was first dropped in 1907 and has continued every year aside from 1942 and 1943 for World War II "dimouts" as a precaution against air raids.
The famously tourist-packed area and neighboring Broadway Theater District have been eerily empty throughout 2020 as the pandemic forced people to stay home and businesses to shut down.
Even though the in-person version of the ball drop won't include a large crowd, a virtual show with live performances and "Dick Clark's New Year's Rockin' Eve with Ryan Seacrest" will still be broadcast. Other TV networks will also be allowed to safely broadcast the ball drop.
Singer-songwriter Andra Day will headline the event and sing several songs including the yearly rendition of John Lennon's "Imagine." Other performers include Gloria Gaynor, Pitbull, Jennifer Lopez, Billy Porter, and more.