TN House Republicans Passed a Bill To Ban Drag Shows in Public or in Front of Children
"The first thing they do is target us, dehumanize us, villainize us, and then they pass legislation against us," said Peppermint, a drag performer.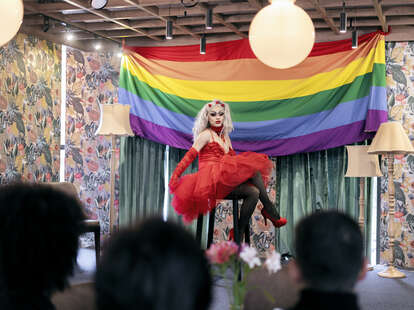 Credit: Getty Images
Credit: Getty Images
Tennessee is set to become the first U.S. state to ban drag shows. The state's House Republicans passed a bill Thursday that would prohibit drag performances on public property or in front of children. The bill will now go back to the state Senate, where a previous version passed in a 26-6 vote, before heading to the desk of Gov. Bill Lee (R) to be signed into law.
There are currently more than 20 proposed bills nationwide that would target drag performances. While supporters of the bills say they are intended to protect minors, drag performers and advocates say they will lead to further harassment of the LGBTQ+ community. Last year, more than 120 drag shows were attacked or threatened, according to a report by GLAAD.
State Rep. Chris Todd (R) introduced the Tennessee bill after he sought a court order last year to stop a "family-friendly" drag show during a Pride event in Jackson. "They're clearly meant to groom and recruit children to this lifestyle, and folks in this community said we are not going to have that," he said at the time. "That is child abuse and we will not have that here." Todd admitted to not knowing the actual contents of the show in question.
"It's a straw man, it's a boogie monster, it's not really a real thing, so they make up stories," Peppermint, a drag performer, said in an interview with Reuters this week. "The first thing they do is target us, dehumanize us, villainize us, and then they pass legislation against us."