To Trump's Dismay, Republican National Convention Site In FL Will Require Face Masks
Though President Trump and the GOP were hoping to avoid social distancing measures when they selected Jacksonville, FL, the state's recent surge in cases has forced officials to implement health measures.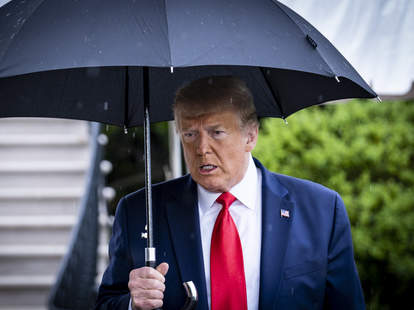 The Florida city set to host most of the Republican National Convention in August mandated this week that face masks must be worn inside — a measure that President Trump and his GOP allies were hoping to avoid when they selected the city to host convention events.
City officials in Jacksonville on Monday announced a mandate that masks must be worn indoors when social distancing can't be practiced. The measure was ordered by Mayor Lenny Curry, who said just last week that he didn't find it "prudent" to issue a mandatory face mask measure in the city, despite Florida's swiftly rising coronavirus cases. 
The convention was originally going to be held in Charlotte, NC, but Trump's demands for an event devoid of social distancing measures caused conflict between him and Democratic leaders in North Carolina, the New York Times reported. 
Republican National Committee Chairwoman Ronna McDaniel then announced on June 11 that Trump would instead announce his acceptance of the Republican nomination in Jacksonville, which, at the time, was experiencing lower case numbers and enforcing very few social distancing measures. 
According to CBS, official business of the convention will still take place in Charlotte, but most events associated with the event, including Trump's acceptance of the nomination, will be held in Jacksonville. 
Florida has seen a surge in COVID-19 cases after Gov. Ron DeSantis (R) greenlit a full phase one reopening plan May 18. The spike in cases has forced state officials to backtrack on several reopening plans, including suspending on-premise alcohol consumption at bars statewide and closing beaches in Miami-Dade County for Fourth of July weekend.
Though the RNC hoped to avoid social distancing guidelines, a spokesperson for the event indicated in a written statement that it will abide by the mask order if it is still in place.
"The RNC is committed to holding a safe convention that fully complies with local health regulations in place at the time. The event is still two months away, and we are planning to offer health precautions including but not limited to temperature checks, available PPE, aggressive sanitizing protocols, and available COVID-19 testing," the spokesperson said.
Trump, who has been unwavering in his anti-face mask crusade, hasn't worn one to either of his two recent rallies in Tulsa, OK and Phoenix, AZ — a trend that is even raising alarm among Fox News anchors who've historically supported him. 
On Tuesday, "Fox & Friends" co-host Steve Doocy pressed McDaniel on why Trump refuses to wear masks and will not encourage their use.
Steve Doocy presses the RNC chair on Donald Trump's refusal to wear a mask in public: "If the president wore one, it would just set a good example. He'd be a good role model. I don't see any downside to the president wearing a mask in public." pic.twitter.com/HUlYDOimuq

— Bobby Lewis (@revrrlewis) June 30, 2020
"If the president wore one, it would just set a good example. He'd be a good role model. I don't see any downside to the president wearing a mask in public," Doocy told McDaniel. "'MAGA' should now stand for 'Masks Are Great Again.'"
Fox host and known Trump loyalist Sean Hannity also endorsed wearing masks on Monday — though he did not call out the president while talking about them.