Tokyo Olympics To Be Held Without An Audience After Increase In COVID-19 Cases
The latest development is yet another setback for the games, which have faced delays, budget issues, and new restrictions for athletes.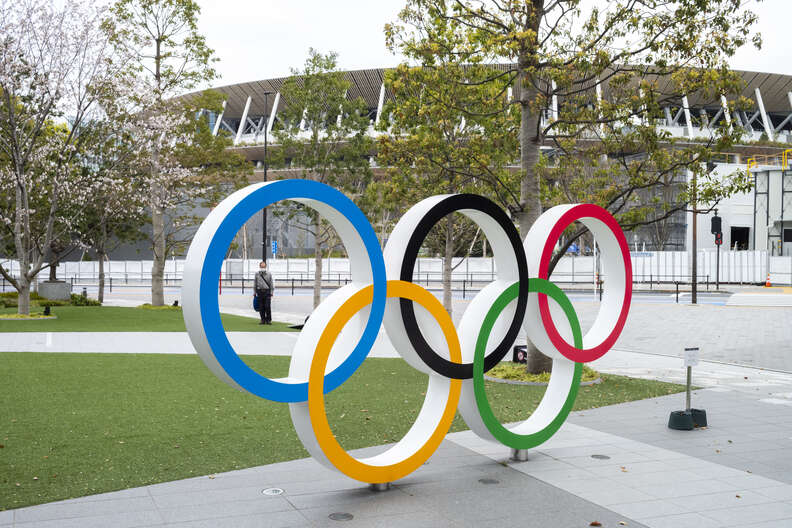 After being plagued with budget dilemmas and an unprecedented postponement, the 2021 Olympics will be showcased without in-person spectators as COVID-19 continues to surge in Japan.
On Thursday, the International Olympic Committee (IOC) announced that the Tokyo games, set to take place July 23 to August 8, would go on without an in-person audience as a result of a recent spike in COVID-19 cases. The announcement came just hours after Japan declared a state of emergency, as the highly-infectious delta variant spreads across the country and the world. In the past week, Japan has reported more than 11,000 new COVID-19 cases, according to Johns Hopkins University. Only about 15% of the population is fully vaccinated against the virus, leaving a large portion of the population susceptible to severe illness.
The IOC had initially planned to allow 10,000 people, or 50% of a venue to attend the games, and banned foreign spectators altogether.
"It is regrettable that we are delivering the Games in a very limited format, facing the spread of coronavirus infections," Tokyo 2020 president Seiko Hashimoto said on Thursday. "I am sorry to those who purchased tickets and everyone in local areas."
According to the Olympics website, ticket holders will be automatically refunded. But those who purchased tickets last year from third-party, authorized sources, have reportedly faced difficulties getting a refund.
Japan's state of emergency will begin July 12 and continue until August 22, multiple outlets reported.
The pandemic forced a one-year postponement for the Olympics, a delay which the Olympics organizing committee revealed in December cost more than $2.8 billion. Japan originally invested $12.6 billion to host the games. Those added costs are due to contract re-negotiations and added COVID-19 safety precautions, according to the Associated Press.
The Tokyo Organizing Committee of the Olympic and Paralympic Games released a statement to the public earlier this week asking that the public "refrain from spectating" the Olympic marathon and race walk events. The opening torch relay event was also re-routed away from main public roads due to the COVID-19 surge, the Tokyo Metropolitan government said.
Tensions had been mounting in Japan as government officials and residents grew increasingly concerned about allowing the Olympics to continue. A Kyodo News poll from last month found that roughly 40% of people in Japan believe the Olympics should be held without an audience, while nearly 30% believe they should be cancelled outright.
"Taking into consideration the impact of the delta strain, and in order to prevent the resurgence of infections from spreading across the country, we need to step up virus prevention measures," Japanese Prime Minister Yoshihide Suga said Thursday.
The Olympics being postponed was a considerable move last year, as the games have only ever been outright cancelled three times since the modern-day version of the events began in 1896. The 1916, 1940, and 1944 games were cancelled due to wars, including World War II.
Organizers instructed Olympians to follow a strict set of safety rules, including multiple rounds of COVID-19 testing, mask-wearing mandates, and only using Olympics transportation. They've also been instructed not to hug or high-five. Athletes who don't abide by the rules could be disqualified.