3 Top Producers Ousted At "Ellen Show" After Toxic Workplace Allegations
Host Ellen DeGeneres was reportedly emotional while addressing her staff in a meeting on Monday, apologizing to anyone who felt "disregarded."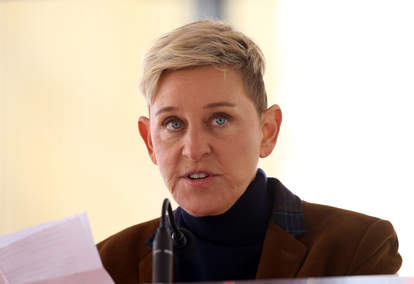 Three senior producers at "The Ellen DeGeneres Show" are no longer with the show amid allegations of sexual misconduct, racist microaggressions, and a toxic work environment.
According to reports in both Variety and BuzzFeed, employees said that Ellen DeGeneres addressed staff in a video call Monday. DeGeneres reportedly told more than 200 employees that the show would be parting ways with executive producers Ed Glavin and Kevin Leman, along with co-executive producer Jonathan Norman. 
In a statement to NowThis, a spokesperson for Warner Bros. confirmed that Glavin, Leman and Norman have "parted ways" with "The Ellen DeGeneres Show."
In a BuzzFeed News report at the end of July, several former employees accused Leman and other "top producers" of sexual misconduct. Ex-employees said Leman was allegedly known for making inappropriate comments and jokes, and multiple ex-employees said he "had a reputation for being handsy with women." One former employee told BuzzFeed that Leman solicited oral sex from him at a work party, while others observed him grope more than one production assistant. 
Leman has denied the allegations, saying in a statement to BuzzFeed: "In my whole time on the show, to my knowledge, I've never had a single HR or inter-personal complaint made about me, and I am devastated beyond belief that this kind of malicious and misleading article could be published."
Glavin was accused by dozens of former employees of using fear and intimidation tactics to run the show, including using a button on his desk to close his office door, according to BuzzFeed.
Executive producers Andy Lassner, Mary Connelly, and Glavin issued a joint statement to BuzzFeed in July after the initial report, saying they take the allegations "very seriously."
"We are truly heartbroken and sorry to learn that even one person in our production family has had a negative experience," the statement continued. "It's not who we are and not who we strive to be, and not the mission Ellen has set for us."
According to Variety, Lassner and Connelly shared the results of WarnerMedia's internal investigation of the alleged toxic workplace environment during Monday's videoconference. The two executives were reportedly accused by former employees of enabling toxic behavior, but they have remained on staff.
The executives reportedly told staffers that after interviewing more than 100 people connected to the show, the investigation found "there was no evidence of 'systemic' racism," according to Variety. The investigation reportedly found the show needed more diversity and inclusion. The Variety report did not specify if WarnerMedia reached out to former employees.
Variety also reported that Warner Bros. declined to comment on any further findings of the investigation.
David McGuire, an executive at Warner Bros., told "Ellen" staff in an email obtained by BuzzFeed that "We promised you change and a new culture, and we are absolutely committed to that."
"We heard loud and clear that communication needs to be better, at every level. The EPs are already taking steps to make our communication more frequent and effective," McGuire continued. "I hope this note is another way we are showing our commitment to do better."
DeGeneres herself was reportedly emotional while addressing her staff Monday, apologizing to anyone who felt "disregarded." Former and current staffers alleged in the initial BuzzFeed report in mid-July that they were told by management not to look at or address DeGeneres around the office.  
"I'm a multi-layered person, and I try to be the best person I can be and I try to learn from my mistakes," DeGeneres said, according to a report by PEOPLE. "I'm hearing that some people felt that I wasn't kind or too short with them, or too impatient. I apologize to anybody if I've hurt your feelings in any way."
BuzzFeed and Variety reported that DeGeneres will be having smaller meetings with staff members in the future. She previously issued an apology to her staff in a memo sent to her employees and obtained by PEOPLE. DeGeneres reportedly said, "Anyone who knows me knows it's the opposite of what I believe and what I hoped for our show." She also said she takes "responsibility for" everything that goes on at the show that bears her name.
Throughout the explosive reports of the alleged toxicity behind the scenes at the show, several celebrities have offered public support to DeGeneres, inducing Katy Perry, Kevin Hart, and Diane Keaton. Critics quickly pointed out that the support was "tone deaf" and "gaslighting" the public from the allegations about the show and its staff. 
According to Variety, the show is planning to come back for its 18th season on September 14 under the leadership of executive producers Lassner, Connelly, Derek Westervelt, and DeGeneres herself. The show's DJ Stephen "tWitch" Boss was also reportedly promoted to executive producer.
One anonymous employee told BuzzFeed that the Monday meeting left some staffers feeling "hopeful" for the future of the show.
"I think the employees who want to work here are excited for a new beginning," the employee reportedly told BuzzFeed. "Those who were looking to jump ship are less likely… I'm very happy that new systems are being built and that hopefully real change is occurring, top to bottom."