Rochester Police Leaders Resign In Wake Of Outrage Over Daniel Prude's Death
Daniel Prude, who lived with mental health problems, died in March after officers violently arrested him and used a "spit hood."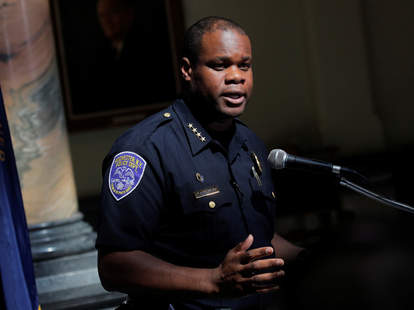 The police chief and deputy chief in Rochester, New York, both announced their retirements on Tuesday in the wake of protests over the death of Daniel Prude, a 41-year-old Black man who was violently arrested in March.
Police Chief La'Ron Singletary and Deputy Chief Joseph Morabito announced in separate press releases that they would retire. The city's mayor Lovely Warren also said during a remote press conference on Tuesday that the chief's entire command staff would retire.
"As a man of integrity, I will not sit idly by while outside entities attempt to destroy my character," Singletary, who worked at the department for 20 years, wrote in a statement. "The events over the past week are an attempt to destroy my character and integrity."
In his statement, Singletary denied that his actions — or lack thereof — in the wake of Prude's death constituted an institutional cover-up, as has been alleged by critics of the department, as well as Prude's family. Singletary also denounced the "mischaracterization and the politicization" of Prude's death.
According to multiple reports, Prude, 41, was arrested on March 23 after his brother Joe called 911. Prude, who was reportedly experiencing mental health problems, was visiting his brother in Rochester from Chicago.
Video footage of the arrest, which was first shared by The Democrat and Chronicle of Rochester last week, shows Prude, who had removed his clothes, lying on the ground with his hands behind his back as an officer approaches him with a Taser. Officers then handcuffed Prude and later placed a "spit hood" over his head to prevent him from spitting on them, as New York was in the early stages of the coronavirus pandemic at the time.
On March 30, Prude died at a hospital.
Footage of the arrest, which was released and widely shared last Wednesday, ignited protests that have continued every night in Rochester. Demonstrations over Prude's death have also popped up in New York City.
Warren said on Thursday that seven officers involved in Prude's arrest would be suspended without pay after the City Council sent her a letter demanding changes to the city's law enforcement in the wake of protests. New York Attorney General Letitia James said in a statement on Saturday that her office would "empanel a grand jury as part of our exhaustive investigation" into Prude's death.
Demonstrators in the city have called for the resignations of both Singletary and Warren, the Associated Press reported. Singletary had previously said he wouldn't leave his job, and Warren had supported him, according to Rochester's Democrat and Chronicle.