Tributes Pour In For Irrfan Khan, Beloved Actor Who Died At 53
Khan was diagnosed with a rare type of cancer and died of a colon infection.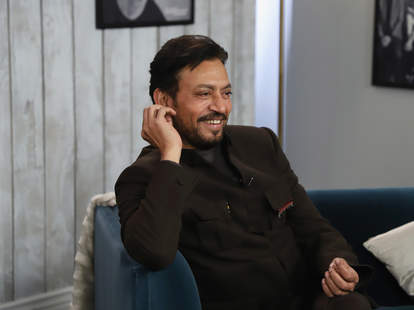 Irrfan Khan, a popular actor who starred in films including "Slumdog Millionaire" and "Life Of Pi," died Wednesday in Mumbai, India. He was 53 years old.
Khan was diagnosed with a rare neuroendocrine tumor in 2018 and was admitted to a hospital in recent days with a colon infection. Khan's family told The Times of India that he was surrounded by loved ones at the time of his death. In a statement, they said, "Irrfan was a strong soul, someone who fought till the very end and always inspired everyone who came close to him. We all pray and hope that he is at peace."
Khan was beloved in Bollywood before crossing over to Hollywood and appearing in films such as "The Amazing Spider-Man" and "Jurassic World." He continued to star in Indian films, most recently in "Angrezi Medium," which was released in March.
Tributes poured in from actors and filmmakers around the world upon news of his death Wednesday, including from his "Namesake" co-star Kal Penn, with many praising his uniquely compelling method of acting:
Irrfan's art and humanity will be badly missed. Never seen someone use the beats of silence so beautifully to convey so much about who we are. Sending love to Sutapa and the family. pic.twitter.com/L3NN1wuz6H

— Kal Penn (@kalpenn) April 29, 2020
The loss of Irrfan Khan - at such a young age - is devastating. He was my favorite actor. I can't think of someone who gave such layered and thoughtful performances but was also a movie star; you couldn't take your eyes off of him onscreen. Love and peace to his family. pic.twitter.com/OjwhNgXgJu

— Mindy Kaling (@mindykaling) April 29, 2020
Popular global Bollywood stars also weighed in:
My friend...inspiration & the greatest actor of our times. Allah bless your soul Irrfan bhai...will miss you as much as cherish the fact that you were part of our lives.
"पैमाना कहे है कोई, मैखाना कहे है दुनिया तेरी आँखों को भी, क्या क्या ना कहे है" Love u pic.twitter.com/yOVoCete4A

— Shah Rukh Khan (@iamsrk) April 29, 2020
The charisma you brought to everything you did was pure magic. Your talent forged the way for so many in so many avenues.. You inspired so many of us. #IrrfanKhan you will truly be missed. Condolences to the family. pic.twitter.com/vjhd5aoFhc

— PRIYANKA (@priyankachopra) April 29, 2020
Khan had many fans from both Western and Indian cinema:
Oh no. I adore Irrfan Khan. He was consistently present and incredible both in western and Indian cinema, which is still too unique. Just heartbreaking. https://t.co/5BMSS7ovas

— Babu Prit (Preeti Chhibber) (@runwithskizzers) April 29, 2020
RIP IRRFAN KHAN. "The Lunchbox" is one of my favorite films & his performance in it was brilliant. Subtle & powerful. Watch his work today & appreciate his genius.

— Hari Kondabolu (@harikondabolu) April 29, 2020
As well as fans of his non-acting work:
Irrfan Khan who passed away today was not merely a brilliant actor, but also an activist aware of and sensitive to injustices in society. Time for all celebrities to ponder about their larger obligations to society https://t.co/9hN4w34fgs

— Prashant Bhushan (@pbhushan1) April 29, 2020
Khan's mother passed away just four days before him at the age of 95 from natural causes. The Hindustan Times reported that Khan could not attend her funeral due to lockdown restrictions. Indian media also reported that Khan's last words were about his mother, known as "Amma" in Hindi, leading to beautiful tributes like this one:
The journey of Irrfan Khan can be summarized as "the boy who could not afford to buy a ticket to watch the first Jurassic Park, to playing the owner of the last Jurassic Park"... Phenomenal!
~via WA pic.twitter.com/XKnbGTWHo5

— जनरल नरभक्षी™ (@GDnarbhakshi) April 29, 2020
Though the actor had not posted on Instagram since 2018, one of his last posts has taken on a special significance today: