Trump Calls FBI Raid On Rudy Giuliani's Home "Very Unfair" And A "Double Standard"
The former president is defending his former personal lawyer and one of his most loyal allies, Giuliani, after the FBI searched his home early Wednesday as part of a larger investigation.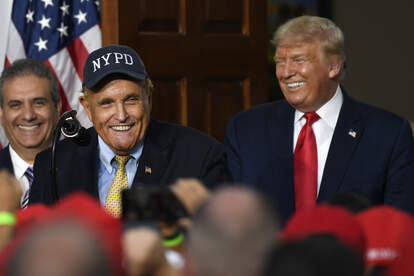 Former President Donald Trump is claiming a recent federal raid of one of his closest allies, Rudy Giuliani, is a "double standard" and "very unfair" — though it's work that Giuliani was doing on behalf of Trump that may end up getting him in legal trouble.
The FBI searched Giuliani's New York City home and office early Wednesday and seized belongings including cell phones and computers, according to Giuliani's lawyer Robert Costello. Officials told the Associated Press that the raid is part of a larger investigation into Giuliani, including his connections to Ukraine and the Trump team's attempts to fabricate "dirt" on the Bidens, which was the central focus of Trump's first impeachment trial.
Costello said in a statement the raid was due to "only one indication of an alleged incident of [Giuliani's] failure to register as a foreign agent." The New York Times reported that federal authorities are investigating Giuliani's political and business dealings with Ukrainian officials on a number of matters.
Trump on Thursday defended Giuliani during an interview with "Mornings With Maria" on Fox Business, and repeatedly called Giuliani a "patriot." Trump also referred to the raid as a "double standard" because, as he sees it, President Joe Biden and his son Hunter Biden "didn't file" as foreign agents. Federal law requires that a person working in foreign dealings must register with the Department of Justice as a foreign agent; Biden has never credibly been accused of doing work on behalf of a foreign government, and there is no evidence his son Hunter ever did any lobbying on behalf of foreign nationals.
"I don't know what they're looking for or what they're doing," Trump continued. "It is so terrible when you see the things going on in our country with the corruption and the problems and then they go after Rudy Giuliani. It's very sad, actually."
The Times reported that "federal authorities have largely focused on whether Mr. Giuliani illegally lobbied the Trump administration in 2019 on behalf of Ukrainian officials and oligarchs, who were helping Mr. Giuliani's dirt-digging campaign [against the Bidens]."
Also using the "corrupt double standard" line, Costello claimed that federal officials ignored the supposed "blatant crimes" of prominent Democrats including President Biden, Hillary Clinton, and Hunter Biden, none of whom have been charged with any crimes. Hunter Biden disclosed in December 2020 that he was under investigation by the Department of Justice over tax dealings; the president is not implicated in the inquiry.
According to The Times, officials seizing Giuliani's electronics is an indication that the feds are searching for any communication between the former New York City mayor and Ukrainian officials.
Giuliani is also one of the most vocal spreaders of the baseless conspiracy theory that the 2020 election was fraudulent. Election tech company Dominion Voting Systems is suing Giuliani for defamation and alleged he and his allies duped Americans into believing that Dominion voting machines "had stolen their votes and fixed the election."
Giuliani for months led the charge as part of Trump's legal spree that involved filing dozens of lawsuits in key swing states challenging the results of the 2020 election, which overwhelmingly failed in court.
"This behavior of the justice department, enabled by a compliant media, running roughshod over the constitutional rights of anyone involved in, or legally defending, former President Donald J. Trump is becoming the rule, rather than the exception," Costello continued.
Versha Sharma contributed to this report.