Trump Calls Woodward A "Whack Job" During Packed, Mostly Maskless Michigan Rally
Following a contentious week for the president involving his newly released interview with Bob Woodward about COVID-19, Trump also told rally-goers that his administration didn't want to be "crazed lunatics.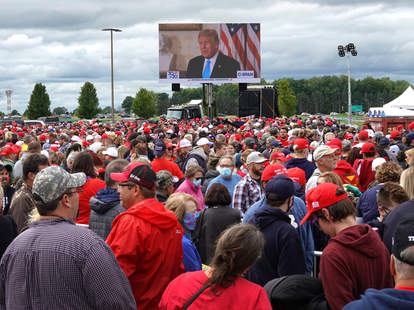 Trump took aim at Gov. Gretchen Whitmer, his presidential race opponent Joe Biden, and investigative journalist Bob Woodward during a packed, mostly maskless rally in Michigan on Thursday.
The president visited the key battleground state after explosive audio released Wednesday showed the president telling Woodward in February that he knew COVID-19 was deadlier than the flu and primarily spread by air. In March, the president told Woodward that he intentionally downplayed the threat of the virus to the American people, according to audio.
At the rally Thursday, Trump rebutted comments he made earlier in the pandemic. He also criticized Woodward, whose book "Rage" will be released next week and include more on-the-record interviews from the president and other White House officials.
"This whack job that wrote the book, he said, 'Well Trump knew a little bit,'" Trump told rallygoers. "They wanted me to come out and scream, 'People are dying, we're dying.' No, no. We did it just the right way. We have to be calm. We don't want to be crazed lunatics. We have to lead."
The longtime journalist has also faced intense scrutiny for not releasing the audio sooner, as many argue it could have saved lives.
Earlier Thursday, Trump claimed to reporters during a White House press briefing that he had wanted to "to show a level of confidence" and "strength as a leader," while asserting that, "There was no lie." Many remarked that the briefing resembled a campaign event, during which the president mentioned Biden's name at least 17 times.
Trump vs. Whitmer
Gov. Whitmer (D) criticized Trump ahead of the rally, saying at a news conference in Lansing that, "The biggest threat to the American people is the American president right now."
Whitmer also expressed concern over the planned rally where thousands of Trump supporters later packed tightly together while mostly forgoing masks.
Trump seized the crowd's energy to attack Whitmer, with whom Trump has previously clashed throughout the pandemic. He boasted that "This is not the crowd of a person who comes in second place," and said Michigan would be better if it "had a governor who knew what the hell she was doing."
Trump vs. Biden
The president also called out opponent and former VP Biden, making many unsubstantiated claims about his VP record and the policies he would enact if elected. In a further attempt to appeal to suburban voters through fear tactics, Trump claimed that, under Biden, "far left lunatics won't just be running failed Democrat cities, they'll be running the Department of Justice, the Department of Homeland Security, and the United States Supreme Court, and we can't let that happen."
"Does anyone want to have a member of antifa as a resident of your suburb? I don't think so," Trump said.
Recent polls show Biden leading over Trump in six key swing states, including Michigan, where Trump defeated presidential candidate Hillary Clinton in 2016 by a small margin.
In response to the newly released audio of Trump, Biden said during a virtual fundraiser that Trump "knew all along just how deadly this virus is."
"He knew and purposefully played it down because all he was concerned about was his reelection, didn't want to affect economic growth," Biden said.