Trump: Could We Inject Disinfectant? Doctors & Lysol: Do NOT Do That
"Please do not ingest or inject disinfectant. I feel like one should not have to say this."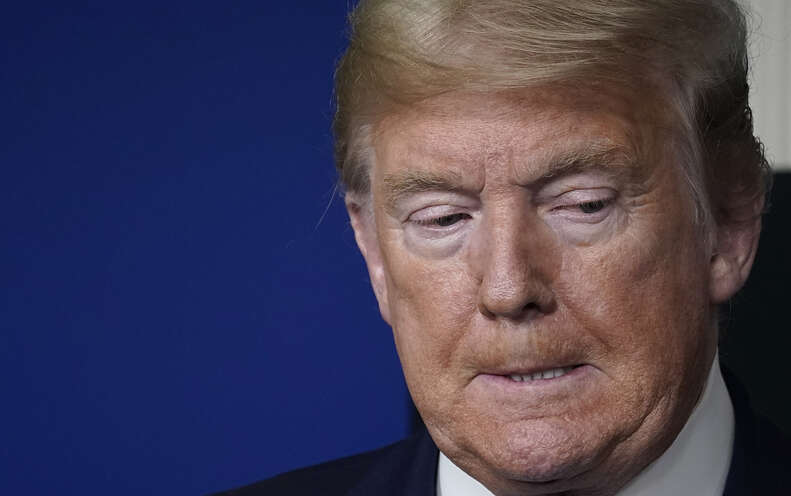 President Trump suggested the possibility of injecting disinfectant into coronavirus patients — prompting medical professionals and the makers of Lysol to strongly warn against people actually doing so.
During Thursday's coronavirus task force briefing, Trump talked about how disinfectant can kill the virus on surfaces and in the air. He also said doctors should look into whether "very powerful light" could be "brought inside the body" to cure the virus. He then pondered on whether disinfectants, which are highly toxic, could be injected into patients infected with the virus.
"I see the disinfectant that knocks it out in a minute, one minute," Trump said. "And is there a way we can do something like that by injection inside, or almost a cleaning? Because you see it gets inside the lungs and it does a tremendous number on the lungs, so it would be interesting to check that."
Trump's comments prompted medical professionals and disinfectant companies to urge people against ingesting or injecting disinfectants. Soon after the briefing #DontDrinkBleach also started to trend on Twitter.
"Please do not ingest or inject disinfectant," orthopaedic surgeon Dr. John Shields tweeted. "I feel like one should not have to say this."
"As a global leader in health and hygiene products, we must be clear that under no circumstance should our disinfectant products be administered into the human body (through injection, ingestion or any other route)," Reckitt Benckiser Group, the makers of Lysol and Dettol, said in statement following the White House briefing. "As with all products, our disinfectant and hygiene products should only be used as intended and in line with usage guidelines. Please read the label and safety information."
Washington state's emergency management agency also tweeted to denounce Trump's suggestion on Thursday urging, "Please don't eat tide pods or inject yourself with any kind of disinfectant."
This isn't the first time the Trump administration has sparked controversy over questionable medical claims.
Dr. Rick Bright, an infectious disease and vaccine expert and a top official at the Department of Health and Human Services, said he was fired this week from his position for butting heads with Trump officials over how to address the coronavirus pandemic— specifically over the use of chloroquine and hydroxychloroquine as coronavirus treatments.
White House press secretary Kayleigh McEnany released a statement Friday about Trump's comments that was described in multiple publications "President Trump has repeatedly said that Americans should consult with medical doctors regarding coronavirus treatment, a point that he emphasized again during yesterday's briefing," McEnany said.