Trump Defends Kenosha Shooting Suspect Facing Homicide Charges
"He was trying to get away from them, I guess, it looks like," Trump said. "He probably would have been killed."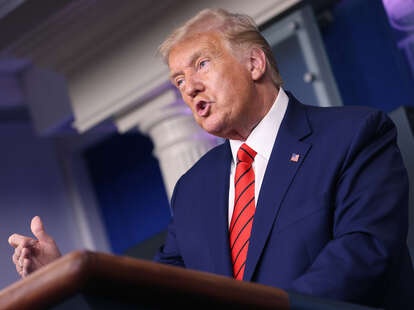 President Trump on Monday refused to condemn the actions of 17-year-old Kyle Rittenhouse, who is facing homicide charges in connection with the shooting deaths and injuries of three people during protests in Kenosha, WI.
When asked by reporters during a press conference if he would condemn Rittenhouse, Trump instead defended the suspect, suggesting that the suspect was acting in self-defense. The suspect's lawyers have said his actions were in self-defense, the Milwaukee Journal Sentinel reported, and conservative commentators including Fox News' Tucker Carlson have repeated the claim.
"He was trying to get away from them, I guess, it looks like," Trump said of Rittenhouse and the protesters, while emphasizing that the incident is still being investigated. "I guess he was in very big trouble. He probably would have been killed."
The Illinois teen has been charged as an adult with six criminal counts, including two counts of first-degree homicide and one count of attempted homicide, for allegedly shooting three protesters, leaving two dead and one injured. Graphic bystander footage that has been widely shared shows the suspect running through a crowd, then tripping and falling, as he wields a rifle. Multiple gunshots can be heard throughout the clip.
Kenosha officers are also facing backlash based on video footage and firsthand accounts that Rittenhouse walked past them without being apprehended, despite his arms being raised. The suspect was holding a rifle over his shoulder while onlookers shouted that he had just shot people, according to bystander video.
Kenosha County Sheriff David Beth has defended the officers' actions, saying they may not have paid attention to the teenage gunman because there were many distractions and that "in situations that are high stress, you have such an incredible tunnel vision."
In an interview with Fox News anchor Laura Ingraham that aired Monday, Trump compared the actions of the police officer who shot 29-year-old Jacob Blake in the back seven times to golfers missing a putt.
"Shooting the guy in the back many times. I mean, couldn't you have done something different? Couldn't you have wrestled him?" Trump said, "You know, I mean, in the meantime, he might've been going for a weapon. And, you know, there's a whole big thing there. But they choke just like in a golf tournament. They miss a three-foot putt."
Trump's remarks came on the eve of his scheduled visit to Kenosha, Wisconsin, where demonstrations have continued since the August 23 police shooting of Blake, which left him paralyzed from the waist down.
State and local leaders, including Wisconsin Gov. Tony Evers (D), have discouraged Trump from visiting. In an open letter to the president on Sunday, Evers said, "I am concerned your presence will only hinder our healing. I am concerned your presence will only delay our work to overcome division and move forward together."
Trump is not scheduled to meet with Blake' s family and told reporters on Monday, "I may at some point do that, but they did have a lawyer that wanted to be on the phone and I said no. That's inappropriate, but I did just give my best regards."
Blake's family's attorney Benjamin Crump told "Face the Nation" on Sunday that they had not been contacted about meeting the president.
On August 28, Blake's father, who is also named Jacob Blake, told CNN that he had a conversation with presidential nominee Joe Biden and vice presidential nominee Kamala Harris that was "so comforting. When asked if he wanted to hear from Trump, Blake's father said, "It is too late. He should have called four days ago."