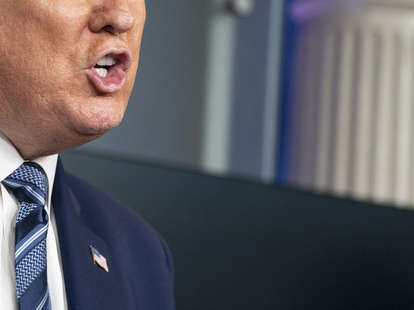 Getty Images
Getty Images
On one side, hospitals, doctors, nurses, public health officials, governors, senators, policy experts, historians, and members of the House have been calling on President Trump to actually use the Defense Production Act (DPA) the way he claims he is.
On the other side, the U.S. Chamber of Commerce and unidentified "heads of major corporations" have lobbied Trump not to use the Act.
Guess which group he's listening to?
As the death toll in the U.S. from COVID-19 climbs — in New York alone, it's already surpassed the death toll of 9/11 — the federal government's response is coming under greater scrutiny. After weeks and weeks of pressure, and claims that he didn't need to invoke the DPA because the private sector was moving on its own to manufacture much-needed emergency medical equipment, Trump wrote an executive memo on March 27 supposedly asking General Motors to produce ventilators ASAP.
But a week later, Peter Navarro, the man in charge of the federal government's activation of the DPA, told Politico "the administration has not been able to verify whether GM has made any progress" since then. Navarro, an economist with some disputable views, is electing to take a hands-off approach and says GM is supposed to be updating him (he says he has not received any updates so far). Perhaps even more shockingly, it turns out that the Trump administration hasn't actually placed any specific orders for ventilators from GM.
The Defense Production Act is a wartime-era law that allows the federal government to direct private manufacturers to start producing equipment for the security of the country as soon as possible. Only the president has the legal ability to activate it. One group of Democratic senators, including Sen. Elizabeth Warren, called it "an extraordinarily powerful tool" of the presidency — and they have been urging the Republican president to use it in order to save lives.
The March 27 memo from Trump gives "authority" to the Secretary of Health and Human Services, Alex Azar, "to require General Motors Company to accept, perform, and prioritize contracts or orders for the number of ventilators that the Secretary determines to be appropriate."
But Azar hasn't come up with a number yet, and no specific order has been given to GM.
Meanwhile, New York Gov. Andrew Cuomo says he needs tens of thousands of ventilators in the next few weeks.
"What are we going to do with 400 ventilators when we need 30,000 ventilators?" he recently said of the shipment that FEMA has sent. "You pick the 26,000 people who are going to die because you only sent 400 ventilators!"
So what's behind the holdup?
The U.S. Chamber of Commerce, which bills itself as "the world's largest business organization representing the interests of more than 3 million businesses of all sizes, sectors, and region," has been lobbying against use of the DPA, which it calls a "blunt instrument." According to the New York Times, the Chamber says using the Act "could prove counterproductive, imposing red tape on companies precisely when they need flexibility to deal with closed borders and shuttered factories." The chief policy officer for the group, Neil Bradley, told Bloomberg News that companies are already "doing everything that the government is asking for them to do," and confirmed that the Chamber had been lobbying against using the Act.
There are a few factual problems with Bradley's statement: one, the government isn't making requests of private companies, and two, companies have already admitted they're not exactly doing everything they can yet. Based on interviews with industry executives, the Times says "companies are reluctant to crank up production lines without purchasing guarantees from the government" (again, something the Trump admin. has yet to offer). Many in the private sector are also reluctant to "invest in new machinery or venture into new products...with the economy in free-fall and factories shuttering around the country."
Companies have said they're confused and overwhelmed with the sheer number of orders they're getting, from individual governors scrambling to equip their hospitals, as well as orders from other countries. They also say they're not getting any useful feedback from the feds about how to prioritize these orders.
Fully invoking the DPA could solve all of this. And yet, the director of the National Economic Council, Larry Kudlow, and Trump's senior advisor and son-in-law Jared Kushner found the Chamber's lobbying efforts persuasive.
After the Times reported on these efforts and said the "heads of major corporations" had joined in, a group of six Democratic senators wrote a letter to the CEO of the Chamber, calling the lobbying "shameful."
"You owe the American public an explanation of your actions," wrote Sen. Warren, along with Sens. Ed Markey, Brian Schatz, Chris Murphy, Tammy Baldwin, and Sheldon Whitehouse. "The Chamber is actively working against efforts to address the urgent national COVID-19 pandemic, and is placing the short-term desires of its members above the economic and public health needs of hundreds of millions of American families." They asked that the lobbying stop immediately, and followed up with specific questions: "on whose behalf are you lobbying? Which 'heads of major corporations' are involved in these efforts?"
Warren's office said it has not received a response.
Yet, this administration has used the DPA before...
If it feels like pulling teeth to get Trump to use the DPA, that's because it is—despite the fact that the administration has actually used it hundreds of thousands of times before this pandemic. "The Defense Department estimates that it had used the law's powers 300,000 times a year," wrote reporters Zolan Kanno-Youngs and Ana Swanson after looking through congressional reports and conducting interviews. They also noted that the Department of Homeland Security, which includes FEMA, had "placed more than 1,000 orders in 2018, often for hurricane and other disaster response and recovery efforts." The Defense Department also used specific language from the Act "to ensure delivery of products by a specific date."
So we know it's possible. The Trump administration has used the DPA to make specific orders for equipment for disaster response efforts, and even given deadlines for that production. But why hasn't this strategy been used for the most unprecedented outbreak of an infectious disease we've dealt with in our lifetimes? The answer seems to be: lobbying from private interests and the supposed optics of "nationalization" of the economy, as well as a presidential desire to avoid accountability.
At one point in a March briefing, Trump said, "Call a person over in Venezuela, ask them how did nationalization of their businesses work out? Not too well."
But such a statement is deflection. Larry Hall, the former director of the DPA program division at FEMA, said, "What's more important? Building an aircraft carrier...or saving a hundred thousand lives using priorities for ventilators? If we used the president's logic, most of our economy is already nationalized. But it isn't." Hall retired in August 2019.
So...can we do anything about it?
Journalist Judd Legum has a theory: "If enough [U.S. Chamber of Commerce] member companies spoke out against the Chamber's lobbying, it would have to stop." He's highlighting three major companies who have specifically said they want to help the public during the pandemic: Google, Nike, and Capital One. Legum writes that "they could make a difference by speaking out." He has successfully petitioned companies to change their policies in other ways, like getting a major restaurant chain (that operates Olive Garden, among others) to provide paid sick leave for thousands of workers during the pandemic.
So far, none of the three companies have returned his request for comment, but a social media campaign could add to the pressure.
Sen. Tammy Baldwin (D-WI) has also introduced legislation that she says would "trigger the full authority of the DPA without delay." The proposed bill includes requiring FEMA "to conduct a national assessment on current medical supply needs and a follow up major purchase order to fulfill the needs identified in the assessment." That's already a few steps further than what Trump is currently doing. You can read more about the legislation here and call your representatives to ask them to support it.
The head of four of the biggest national unions also wrote to the Chamber of Commerce saying, "Every day we delay the production and distribution of vital PPE [personal protective equipment] is costing lives and livelihoods and may drive the eventual collapse of businesses, from Main Street to Wall Street." There's a business argument to be made that the ongoing failure to address the epidemic in the U.S. will have longer-term negative effects on the economy, and that the Chamber should put short-term financial interests aside for the big picture. But most of all, it's a moral argument to stop this lobbying. As they write, "while your organization insists that the DPA imposes 'red tape'...imagine the respiratory therapist who must track down a ventilator while also managing a patient's every last breath."
Hospitals are running out of time. The federal government must do more.