Trump Is "Single Largest Driver" Of COVID-19 Misinformation, Study Finds
The most prevalent misinformation centered on "miracle cures" for the virus, researchers found.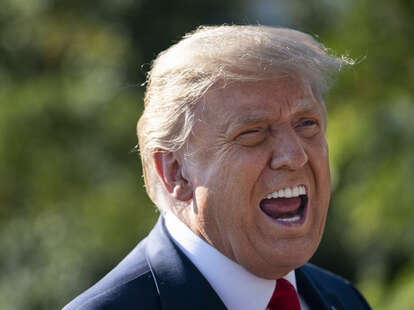 A recent study found that President Donald Trump is the "single largest driver" of coronavirus misinformation.
Researchers at Cornell University analyzed more than 38 million articles about the pandemic in English-language media worldwide. Results from their study, which was released on Thursday and cited by The New York Times, found that Trump made up nearly 38% "of the overall misinformation conversation," and is "the single largest driver of misinformation" on COVID-19.
The study, which researchers say is the "first to attempt a fully comprehensive analysis of media-generated misinformation during the COVID-19 pandemic," analyzed 11 subtopics of misinformation around the virus, ranging from the COVID-19 crisis being tied to population control to its origins being traced back to people eating bat soup. Other conspiracies they studied included that the virus was a Democratic party hoax or connected to billionaire businessman Bill Gates.
But the most prevalent misinformation subtopic included unproven "miracle cures" for the virus, including the Trump-touted anti-malaria drug hydroxychloroquine, which accounted for more misinformation than the other 10 subtopics combined.
Researchers sought to track trends in reporting around the subtopics in the millions of articles — 1.1 million of which they said contained misinformation.
They found that the staggering amount of misinformation around a "miracle cure" stemmed from a coronavirus press briefing that Trump gave in April, during which he suggested ingesting bleach or other disinfectants. Doctors and the company Lysol swiftly condemned the comments.
"Though substantial overlap can be expected between these subtopics given the prominence of President Trump within the 'miracle cures' theme, these results strengthen our conclusion that the U.S. President was likely the largest driver of misinformation during the COVID-19 pandemic, particularly given that trendline spikes in coverage of Trump's comments closely resemble those in more than one sub-topic," the study said.
Public health experts assert that misinformation is one of the primary reasons the U.S. has fallen far behind other countries in responding to the pandemic.
The U.S. has for months led the world in the number of COVID-19 cases, currently with over 7 million cases, and related deaths, now at over 207,000 according to the Johns Hopkins University Tracker.
"There is a science of rumors. It's when there is uncertainty and fear," Dr. Joshua Sharfstein told The Times.
Sharfstein also said that honest and consistent messaging is paramount for fighting a health crisis when treatments and vaccines are not yet available.
"This is what we need to save lives," he said. "If it's not done well, you get far more infections and deaths."