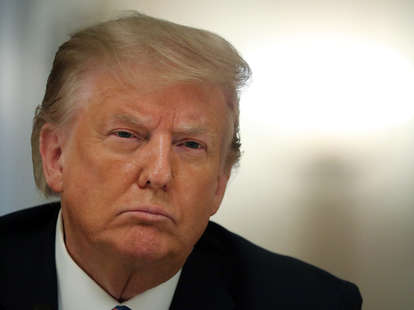 Getty Images
Getty Images
President Trump is pressuring state and local leaders to reopen schools in the fall and has threatened to withhold federal funding from schools that do not resume in-person classes. Meanwhile, coronavirus cases around the country have continued to surge.
During a Tuesday White House roundtable discussion on potentially reopening schools, Trump said, "What we want to do is we want to get our schools open. We want to get them open quickly, beautifully, in the fall. And the — as you know, this is a disease that's a horrible disease, but young people do extraordinarily well."
After claiming that certain lawmakers are keeping schools closed for "political reasons," Trump continued, "We're very much going to put pressure on governors and everybody else to open the schools, to get them open. And it's very important."
On Wednesday, Trump ramped up the pressure for schools to reopen, claiming in a tweet that he may withhold federal funding if schools do not resume in-person classes in the fall.
Earlier this week, the president also tweeted an unsubstantiated claim related to reopening schools:
"Corrupt Joe Biden and the Democrats don't want to open schools in the Fall for political reasons, not for health reasons! They think it will help them in November. Wrong, the people get it!"
A Biden spokesperson has told multiple outlets that the candidate "of course" wants schools to reopen, but only if they can do so safely.
VP Mike Pence confirmed on Wednesday that the Trump administration was looking into ways to push schools to reopen, but said that most educational spending does not come from the federal government.
"I would tell you that at this point, I think 90% of education funding comes from the states, roughly 10% depending on state's budgets come from the federal government," Pence said during a coronavirus task force briefing at the Education Department headquarters. "As we work with Congress on the next round of state support, we're going to be looking for ways to give states a strong incentive and encouragement to get kids back in school."
Pence also said The Centers for Disease Control (CDC) and Prevention is revising its guidelines for schools regarding planning and responding to the virus, after Trump tweeted on Wednesday that he disagreed with them, calling them "tough & expensive."
CDC guidance currently recommends that administrators enforce healthy practices such as face coverings and be prepared for coronavirus cases regardless of the number of cases present in the community.
It also recommends social distancing strategies, such as modifying classes; increasing space between desks; and allowing students to eat meals in the classroom. If there is minimal to moderate community transmission in the area, it recommends staggering arrival and/or dismissal times, cancel trips, assemblies and gatherings, limiting nonessential visitors. If there is substantial communal transmission in the area, it recommends seeking guidance from local health officials but also considering extended school dismissals (e.g. dismissals for longer than two weeks).
Education officials have responded critically to Trump's push to reopen schools, as the county is experiencing a record number of new cases.
"Trump has proven to be incapable of grasping that people are dying — that more than 130,000 Americans have already died," said Lily Eskelsen García, president of the National Education Association. "Educators want nothing more than to be back in classrooms and on college campuses with our students, but we must do it in a way that keeps students, educators and communities safe."
Trump's pressure for schools to reopen also comes as his administration introduced a policy on Monday that would force international students out of the country this fall if they take fully online courses. Universities including Harvard and the Massachusetts Institute of Technology (MIT) have since filed a lawsuit against the administration.