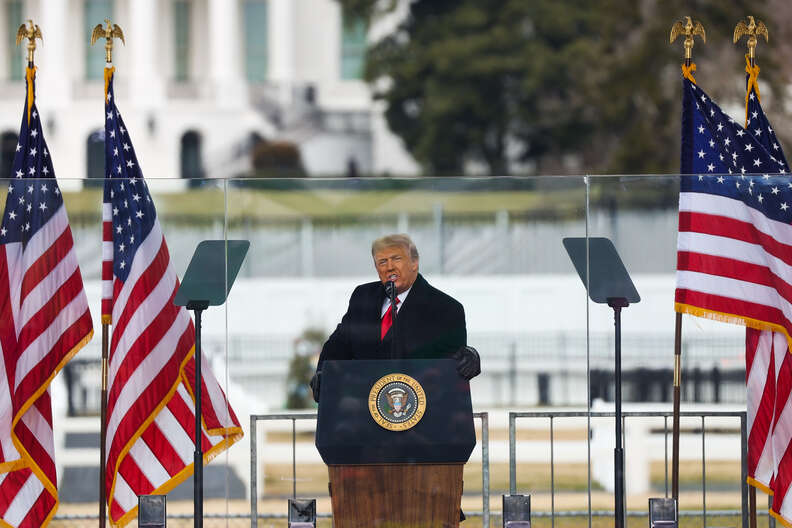 Two Capitol Police officers are suing former President Donald Trump for physical and emotional injuries caused by his "wrongful conduct inciting a riot" on January 6, 2021, according to a federal lawsuit filed Tuesday in Washington, D.C.
Officers James Blassingame, a 17-year-veteran of the U.S. Capitol Police, and Sidney Hemby, an 11-year-veteran, both reported for duty that day "without any suspicion that they would soon become the targets of Trump's followers," the complaint reads (published here by Just Security). BuzzFeed News reported that lawsuits against Trump related to the insurrection are "stacking up," but this is the first lawsuit filed against the former president by Capitol Police officers.
The filing describes Trump's actions in inciting the violent mob — for which he was impeached, a second time, by the House of Representatives on January 13 — and how he encouraged supporters at a "Stop the Steal" rally that day to march on the Capitol.
Trump "inflamed, encouraged, incited, directed, and aided and abetted" the insurrectionist mob, the lawsuit says, both on January 6 and in the "many [preceding] months" when he repeatedly told his followers "to believe his false allegation" that he lost the election because of widespread fraud.
According to the suit, the officers are seeking compensatory damages of at least $75,000 as well as punitive damages "in an amount consistent with the evidence to be shown at trial," according to the suit. Officer Blassingame, who is Black, said he was repeatedly called the n-word by Trump supporters on January 6, attacked with sharp objects and weapons, "and slammed against a stone column" by insurrectionists, striking his spine and the back of his head.
"Foremost in [his] mind was the terrifying certainty that the insurrectionists were interested in him and the other officers not going home to their families that night," the complaint says.
Officer Hemby, located in a different part of the Capitol complex, said he suffered injuries to his hand, knee, back, and neck, and was sprayed with chemicals. He was unable to seek medical attention until after 9 p.m. that night, after waiting on the Capitol grounds until it was cleared of rioters. He "receives physical therapy two to three days per week" for his neck and back, per the suit.
Both officers say they suffer from emotional trauma and sleep disruption; Blassingame said he has survivors' guilt, and Hemby said he would have taken leave after sustaining injuries "but for the fact that so many of his fellow officers were also injured and unable to report for duty." A fellow officer died in the violent riot on January 6, along with four other people, and two officers who were also on the job that day later died by suicide. The police union says about 140 officers were injured in the riot on January 6.
Trump has so far not responded to the lawsuit, but put out a statement Wednesday criticizing President Joe Biden's new jobs plan.