Trump Sues Nevada Over Mail-In Voting But Says It's Okay In Florida (Where He Votes)
The lawsuit is the latest in the president's quest to ensure mail-in ballots do not become the norm for the upcoming election, making false claims it could lead to voter fraud.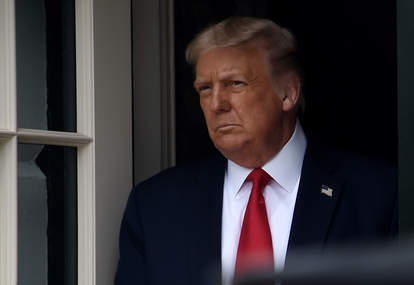 President Trump's campaign is suing the state of Nevada over its newly-passed legislation that will mail ballots to all registered voters ahead of the upcoming election.
The suit was filed on Tuesday by the Trump campaign, the Republican National Committee, and the Nevada Republican Party against Nevada Secretary of State Barbara Cegavske (who is also a Republican). The suit was filed the same day that Trump expressed his support of Florida's mail-in voting system, where he's voted by mail in the past.
Trump called Nevada's mail-in voting law a "corrupt disaster" in a tweet and said that "it will take months, or years, to figure out."
He praised the Republican-led state of Florida for its mail-in voting system saying its "Safe and Secure, Tried and True."
"Florida's Voting system has been cleaned up (we defeated Democrats attempts at change), so in Florida I encourage all to request a Ballot & Vote by Mail!" Trump tweeted on Tuesday.
Nevada Gov. Steve Sisolak (D) signed Assembly Bill 4 (AB 4) on Monday after it passed the Nevada legislature. It will automatically send ballots to voters in the state of Nevada—a law that's being passed in other states, including California, amid the coronavirus pandemic. States like Oregon and Washington are already fully vote-by-mail states.
Gov. Sisolak said in a series of tweets that the bill will "prevent Nevadans from experiencing the long lines at polling locations" and "help reduce the spread of COVID-19."
Trump baselessly claimed the legislation being signed into law was an "illegal late-night coup." His lawsuit claims Nevada's voting law lacks "clear standards to guide the actions of county and city officials" who run the elections and that it "makes voter fraud and other ineligible voting inevitable."
The lawsuit also claims that another part of Nevada's law, which will add more in-person polling locations in parts of the state with larger populations, is a violation. The suit writes, "Under those sections, the number of in-person voting places a county must establish is tied to the county's population, resulting in more in-person voting places per capita for voters in urban counties than in rural counties."
The suit also claims Nevada would be violating federal law that requires Americans to cast their vote on Election Day. It said that officials would have to count mail-in votes after that day adding, "even when those ballots lack objective evidence that voters cast them on or before Election Day." Ian Milhiser at Vox explained why that argument likely won't hold up in court
In June, state lawmakers in Nevada decided to take action ahead of the presidential election after people waited in line for hours at "extremely limited" in-person polling sites to vote in the primaries.
Trump has been trying to discredit mail-in voting for months, despite himself voting by mail in the March Florida primary. He's continuously made unsubstantiated claims that mail-in ballots would more easily lead to voter fraud. Trump's own 2016 election has been saddled with controversy with allegations of Russian interference to help elect him to president.
"Republicans have always supported efforts to make it easier for voters to cast their ballot," the lawsuit claims. "The electoral process cannot function properly if it lacks integrity and results in chaos. Put simply, the American people must be able to trust that the result is the product of a free and fair election."
Yet, 15 other Trump officials have also voted by mail, more evidence that the Trump campaign only attacks vote-by-mail when they think it benefits Democrats.