Trump Tells Proud Boys To "Stand Back And Stand By" & Refuses To Condemn White Supremacist Groups
President Trump refused once again to condemn far-right extremist groups and white supremacists despite being directly asked to do so by Fox News moderator Chris Wallace.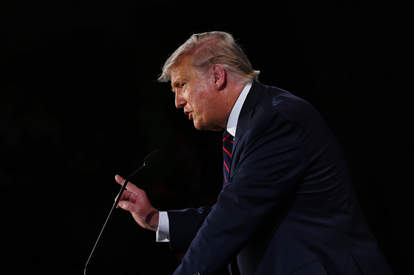 President Trump once again refused to explicitly condemn white supremacists Tuesday night at the first presidential debate, in a Q&A section on race that also resulted in Joe Biden outright calling him "racist."
Asked by moderator Chris Wallace about systemic racism in America, Biden brought up the 2017 far-right white nationalist rally called "Unite The Right" in Charlottesville, VA, in which a driver hit and killed protester Heather Heyer with his car. The Democratic presidential nominee spoke of Trump's infamous response calling the white supremacists and neo-Nazis marching "some very fine people."
"No president's ever said anything like that," Biden said.
Biden also accused Trump of inciting violence, noting the time he came "out of his bunker" during a peaceful protest outside of the White House in June following the death of George Floyd.
"[He] had the military use tear gas on [the protesters] so he could walk across to a church and hold up a Bible," Biden said. "This is a president who has used everything as a dog whistle to try to generate racist hatred, racist division."
Wallace asked Trump why he recently issued an executive order ending any federal diversity training that involves critical race theory, to which Trump said, "They were teaching people that our country is a horrible place, it's a racist place."
"Nobody's doing that. He's just — he's the racist," Biden responded.

Wallace later pivoted the topic to ask about extremist white supremacy groups that typically support Trump, asking the president directly to condemn them.
"Are you willing, tonight, to condemn white supremacists and militia groups and to say that they need to stand down and not add to the violence in a number of these cities?" Wallace asked.
"Almost everything I see is from the left wing," Trump said. "I'm willing to…"
"Then do it, sir," Wallace said.
"Do it, say it," Biden said.
Trump then asked what he should call "them," and Wallace said "white supremacists" and "Proud Boys"— the name of a far-right, neo-fascist group that has been designated a "hate group" by the Southern Poverty Law Center.
"Proud Boys? Stand back and stand by," Trump said to the puzzlement and dismay of many viewers, before quickly pivoting to targeting "antifa" and "the left."
The Proud Boys responded to Trump's statement shortly after, sharing an image of their logo with his exact quote on the platform Telegram:
Trump's "stand by" comment and the entire discussion on racism and Black Americans garnered a lot of reactions from people: