Trump Visits Face Mask Factory Without A Mask During First Big Trip In Weeks
Remember when he looked straight at the solar eclipse? This is like that, but for a deadly pandemic.
President Trump visited an N95 mask factory Tuesday in his first trip away from the East coast in nearly 2 months — and he didn't wear a mask. He did, at one point, wear safety goggles.
The president's first major public visit in weeks was to the Honeywell manufacturing plant in Phoenix, Arizona, as states across the U.S. have reopened despite public health experts' warnings that lifting restrictions too soon could risk tens of thousands more Americans dying.
While Trump hoped to use the visit as a signal that Americans can start getting back to work, the death toll in the country from COVID-19 has continued to rise.
Meanwhile, uncertainty swirled around the future of the White House coronavirus task force, which was ostensibly formed to oversee the federal government's pandemic response. The task force's main feature has been daily press briefings that function more as pro-Trump propaganda and include widely criticized suggestions from Trump about the virus. On Tuesday, Vice President Mike Pence said they would likely wind down task force work by Memorial Day, but on Wednesday morning, Trump tweeted that it would pivot to focus on the economy and continue "indefinitely."
Photos from the Honeywell factory showed employees wearing masks while the president and the officials that were with him did not. CNN reported that a White House official said they were advised masks weren't necessary, but reporters also posted photos from the plant of several signs saying masks are required.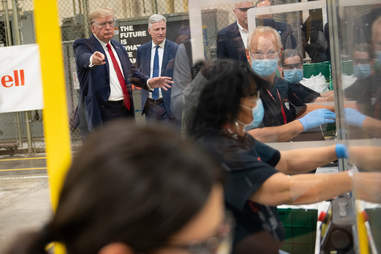 Trump tours the Honeywell factory in Phoenix, Arizona on May 5. (Photo by Brendan Smialowski/AFP via Getty Images)
A Honeywell employee explained to Trump how the N95 masks work and trap air particles to contain the spread of the disease, to which the president responded, "That's great. That's great." The CDC has recommended that people wear masks since early April.
The visit follows Pence's tour of the Mayo Clinic last week, after which he was widely criticized for not wearing a mask despite the medical center's policy requiring visitors to do so. Pence admitted a few days later that he "should have worn" one.
This week, several states have lifted restrictions on businesses, outdoor recreation spots, and places of worship. A detailed map from the New York Times shows that 19 states are still shut down or under restrictions, while 31 have partially reopened or plan to soon. According to the reported data, the number of confirmed cases of coronavirus and deaths continue to rise outside of New York, the epicenter of the crisis in the country.
Public health experts have been warning against easing restrictions too soon, and that a possible second wave or spike of infections could come as a result of it. Texas Gov. Greg Abbott (R) acknowledged as much in leaked audio from a May 1 call with Texas lawmakers. "The fact of the matter is, every scientific and medical report shows that whenever you have a reopening—whether you're reopening business or just a reopening of society in the aftermath of something like this—that it actually will lead to an increase in spread. It's almost ipso facto," Abbott said. "The more you have people out there, the greater the possibility there is for transmission." He reopened much of the state on May 1, which was the worst week Texas has seen yet for both total COVID-19 cases and deaths.
Just this week, a new prediction model from the University of Washington forecast that the number of deaths in the U.S. from coronavirus will reach 134,000, which almost doubles its initial projection. Another preliminary internal government model, published by the New York Times on Monday, said the number of deaths per day could also double to 3,000 by June.
The model was reportedly based on data collected by agencies including the Centers for Disease Control and Prevention, though the CDC told NPR in a statement that "the projections were not from" the agency. NPR also contacted the Johns Hopkins epidemiologist behind that study, who said the forecast was incomplete, that he is still finalizing numbers and he did not expect that data to be published. Still, most academic and scientific models project more than 100,000 deaths in the U.S., a number which Trump acknowledged this week — as he continues to press for reopening the country.
At the factory visit Tuesday, Trump said, "We did it the right way. We did everything right, but now it's time to go back to work." As of May 6, more than 71,000 people in the U.S. have died from coronavirus, of the more than 1.2 million Americans who have been infected, according to the Johns Hopkins University tracker. The U.S. has about one third of all confirmed cases worldwide and a quarter of the reported deaths worldwide.
Some observers noted that while a mask-less Trump toured a mask factory, "Live and Let Die" by Guns N' Roses happened to be playing.
I can think of no better metaphor for this presidency than Donald Trump not wearing a face mask to a face mask factory while the song "Live and Let Die" blares in the background. pic.twitter.com/mJzU1HW7HA

— Jimmy Kimmel (@jimmykimmel) May 5, 2020
After criticism for his trip, Trump tried to claim Wednesday that he had actually worn a mask despite visual evidence otherwise.
TRUMP: "I had a mask on for a period of time"

REPORTER: "We didn't see you in a mask"

TRUMP: "Well, I can't help it if you didn't see me"

President says he did wear mask at Honeywell mask factory visit pic.twitter.com/8RbUHWdxB0

— Zach Purser Brown (@zachjourno) May 6, 2020