Trump Was Booed At An Alabama Rally After He Told The Crowd To Get Vaccinated
After the crowd hesitated to applaud, they let out boos, to which Trump said "No that's okay, that's alright."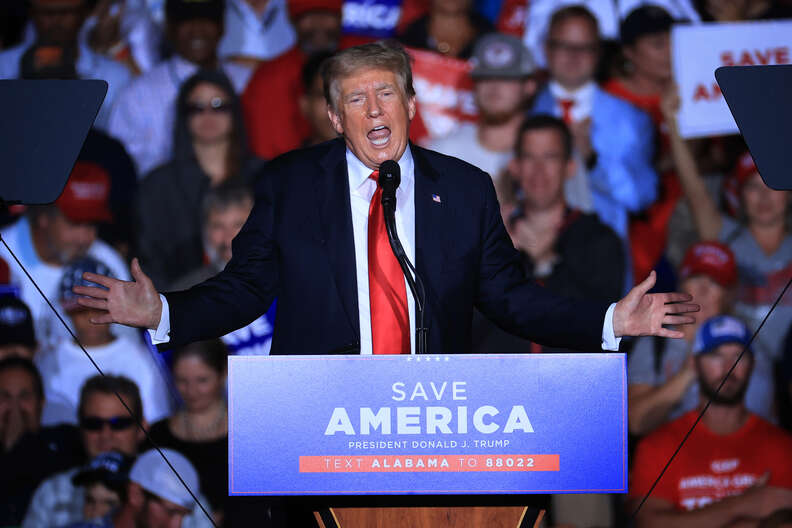 Former President Donald Trump was met with boos during a rally over the weekend after he suggested to his supporters that they get vaccinated for COVID-19.
The 45th president held a rally in Cullman, Alabama on Saturday and encouraged the crowd of followers to get the vaccine. Alabama has the lowest vaccination rate in the country — roughly 38% of adults aged 18 to 64 are fully vaccinated, according to the Mayo Clinic.
"I believe totally in your freedoms, I do. You got to do what you have to do. But, I recommend — take the vaccine! I did it, it's good. Take the vaccines," Trump enthusiastically said to his followers.
After the crowd hesitated to applaud, they let out boos, to which Trump said "No that's okay, that's alright."
"You got your freedoms, but I happened to take the vaccine," Trump continued. "If it doesn't work, you'll be the first to know. Ok? I'll call up Alabama, I'll say, 'hey, you know what?' But [the vaccine] is working. But you do have your freedoms you have to keep. You have to maintain that."
Trump's words pull from both sides of the vaccine debate and are indicative of his flip-flopping rhetoric surrounding the COVID-19 pandemic. Many conservative leaders and anti-vaxxers often use the argument that requiring vaccines to achieve immunity impedes someone's freedom — despite the U.S. having a long history of vaccination requirements.
Trump didn't share that he was vaccinated for COVID-19 until this past March when he told Fox News that he and Melania Trump had received the shot in January before leaving the White House. President Joe Biden and White House chief medical advisor Dr. Anthony Fauci have said publicly in the past that they hoped Trump would use his platform to encourage people to get vaccinated.
Since last September, Trump told the public several times that a vaccine was on its way and at one point said that they would be "safe," but hesitated on pushing people to get the vaccine once it was made available. He also at one point bragged about how quickly his administration developed the vaccine and claimed President Biden's administration would not have been able to create one as fast.
The lack of transparency on the former president's end could also be attributed to Trump's lack of access to his followers after he lost the presidency and was kicked off of every social media platform following the January 6 insurrection. Trump's usual method of using Twitter to communicate with the public was shut down indefinitely after spreading misinformation about the 2020 election along with inciting violence.
According to a YouGov poll published in June, 53% of people who refused to get vaccinated said they trust the medical advice of former President Trump, as opposed to the 7% who trust Biden's advice. The poll also found that 45% of those same people who won't get vaccinated were unsure if Trump got the shot, while 19% did not think he was vaccinated.
In another survey conducted by the Kaiser Family Foundation in July, more than half of people who said they would not get vaccinated believe that the COVID-19 vaccine is more of a risk to their health than the actual virus — despite the highly infectious Delta variant causing spikes in cases nationwide and overwhelming hospitals.
In Alabama, where Trump was booed, the state has reported more than 28,000 new cases of COVID-19 in the last week, including at least 201 deaths, according to Johns Hopkins University. The state is edging on its previous record of new COVID-19 cases in one week, which was more than 29,000 in January.