Trump's Attempted Political Coup Won't Work — But It's Still Dangerous
Most alarming is the fact that top Republican officials are lending support to Trump's completely unfounded, baseless claims that he actually won the election. The damage will outlast Trump's presidency.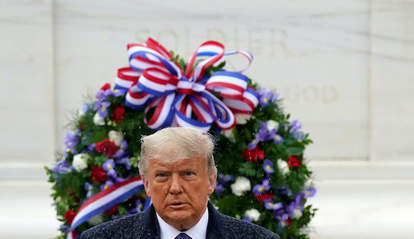 President Trump and his allies are attempting to set up a coup to deny Joe Biden's legitimate election win, and most Republicans are egging him on.
Team Trump has tried to paint Biden's win as the result of "illegal votes," even though election officials in all 50 states told The New York Times they've seen no evidence of fraud. (As a reminder, Trump has also spent four years trying to downplay Hillary Clinton's popular vote win by calling those "illegal votes" as well, to no avail.)
In this last week, some Trump loyalists have called on GOP state legislatures to discard election results and appoint their own electors, subverting the people's vote. Attorney General William Barr has also encouraged Trump's baseless rhetoric by authorizing a Department of Justice investigation into voter fraud claims, after which a top election crimes prosecutor promptly quit.
In the days following Biden's projected presidential victory on Nov. 7, Trump loyalists including Donald Trump Jr., Sens. Lindsey Graham and Ted Cruz, and Republican National Committee Chair Ronna McDaniel, all supported the president's baseless conspiracy theories. Watch our compilation of people who once upon a time at least pretended to support small-d democracy:
Trump is trying to set up a coup to deny Biden's election win, and Republicans are egging him on.

But remember, Biden won decisively and legally. The Trump campaign has no proof to its claims, and its baseless attacks have been refuted by election officials in all 50 states pic.twitter.com/wWI7Mw0cGL

— NowThis (@nowthisnews) November 13, 2020
To be clear: there is no real legal path forward for Trump. He's already lost 12 cases in court, and as Trump campaign lawyers have been continually forced to admit to judges in court that they have no or flimsy evidence of alleged voter fraud, some law firms have started withdrawing or resigning from the cases.
In the final electoral college tally, declared Friday after the remaining two states of Georgia and North Carolina were officially called, Biden has 306 electoral college votes to Trump's 232. Biden currently has a historic 5+ million popular vote lead on Trump as well, which is only expected to grow.
Regardless of Trump's lose-lose scenario, every Republican leader and elected official going along with the assault on democracy is doing a lot of damage, especially to their own voters' trust in the election system. While much of the administration has fallen in line behind Trump, including Secretary of State Mike Pompeo, Trump's own Department of Homeland Security put out a forceful statement on Thursday debunking exactly what the president has been tweeting about. "The November 3rd election was the most secure in American history," the statement read, adding: "There is no evidence that any voting system deleted or lost votes, changed votes, or was in any way compromised."
There has been some debate about whether calling Trump and co.'s bumbling, attempted actions a "coup" is appropriate or not, with some academics arguing that referring to it as "democratic backsliding" is more accurate. By the standard definition of the word, a coup is an illegal, unconstitutional seizure of power — they're often violent, but not always. Trump has shown many times over his willingness to break not just norms, but constitutional laws, in order to cling on to his power. He will not be successful — and President-elect Biden is already moving forward with his policy agenda, ready to turn America's attention back to fighting the spread of coronavirus — but that doesn't make Trump's attempts, or the Republican support of them, less alarming.
Some Republican Congress members and notable figures are deciding to break off from Trump and recognize Biden's win. The small but growing cohort includes Sens. Mitt Romney, Susan Collins, and Lisa Murkowski, former President George W. Bush, former Trump Chief of Staff Mick Mulvaney, and former New Jersey Gov. Chris Christie.