Trump's National Security Adviser Tests Positive For COVID-19
Robert O'Brien is the most senior member of the Trump administration known to test positive for the virus.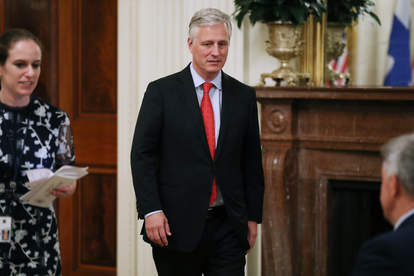 President Trump's National Security Adviser Robert O'Brien tested positive for COVID-19, according to a statement from the White House on Monday.
Officials said "there is no risk of exposure" to President Trump or Vice President Mike Pence, adding that O'Brien "has mild symptoms and has been self-isolating and working from a secure location off site."
"The work of the National Security Council continues uninterrupted," the statement continued.
O'Brien is the most senior White House official known to test positive for COVID-19. It is not immediately clear when he was last in contact with Trump, other than a public appearance during a July 10 trip to Miami, Florida.
CNN reported that O'Brien has been working from home since last week after "abruptly" leaving the White House on Thursday.
In May, Vice President Pence's press secretary Katie Miller tested positive for COVID-19, causing a delay in the VP's trip to Des Moines. Miller has since recovered and returned to work at the end of May. President Trump's driver also tested positive in May. Kimberly Guilfoyle, a top campaign adviser for the president and Donald Trump Jr.'s girlfriend, tested positive earlier this month.
The report of O'Brien testing positive comes as the U.S. continues to lead the world in COVID-19 cases with more than 4.2 million as of Monday, which have caused at least 146,000 deaths, per Johns Hopkins University.
As the nation grapples with continuously rising cases in several populous states, Trump has been pushing for schools to reopen in the fall and threatened to withhold federal funding if they do not. The president was also shown wearing a mask for the first time in July, exactly four months after the World Health Organization declared the coronavirus crisis a pandemic.