Trump's New Press Secretary Has Downplayed Coronavirus, Promoted Birther Conspiracies
Kayleigh McEnany has claimed in the past that the coronavirus wouldn't come to the U.S. and that Trump "is the best authority" on the virus.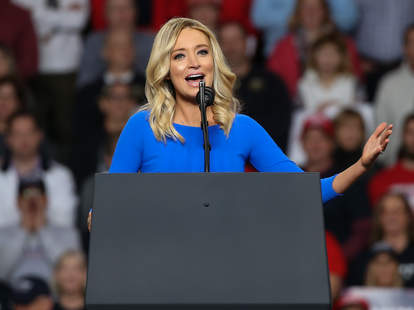 Getty Images/Kayleigh McEnany speaks at a "Keep America Great" campaign rally on January 9, 2020.
Kayleigh McEnany, 31, who has been serving as President Trump's 2020 campaign spokesperson, will be appointed as the new White House press secretary. She will be the president's fourth press secretary since he took office in 2017, replacing Stephanie Grisham, who notably did not hold one press briefing during her time on the job.
McEnany has spent months advocating for and defending Trump in interviews with various news outlets.She's also made comments downplaying the severity of the coronavirus.
In a February Fox Business show with Trish Regan, McEnany claimed, "We will not see diseases like the coronavirus come here," adding, "Isn't it refreshing when contrasting [the Trump administration's public health efforts] with the awful presidency of President Obama?" Regan's show was pulled off the air at the end of March, following her claim that the coronavirus was an "impeachment scam."
On the same day Larry Kudlow said coronavirus was "contained" on Feb. 25th, Trump's campaign spox made an even more bold claim.

"We will not see diseases like the coronavirus come here..and isn't it refreshing when contrasting it with the awful presidency of President Obama." pic.twitter.com/O0DDH3Rvkw

— andrew kaczynski🤔 (@KFILE) April 4, 2020
In a March 11 Fox Business interview with Stuart Varney, McEnany was also asked if Trump's campaign would still hold rallies despite advice from experts that large gatherings not be held. She responded by saying that Trump "is the best authority on this issue."
Here's Trump's new press secretary on March 11 saying that the campaign was still planning to hold rallies, even as she is repeatedly told that other campaigns are not and Fauci in effect advised against it.

McEnany's response: "The president is the best authority on this issue" pic.twitter.com/c6tPHAZGM1

— John Whitehouse (@existentialfish) April 7, 2020
In a March 11 Fox Business interview with Stuart Varney, McEnany was also asked if Trump's campaign would still hold rallies despite advice from experts that large gatherings not be held. She responded by saying that Trump "is the best authority on this issue."
How I Met Your Brother -- Never mind, forgot he's still in that hut in Kenya. #ObamaTVShows

— Kayleigh McEnany (@kayleighmcenany) August 30, 2012
Though it is not clear whether McEnany will resume regular press briefings in her new role, reporters Katie Rogers and Maggie Haberman noted in a New York Times report that she "is not expected to significantly change her role in her new job, whose main responsibility — answering questions from press in the briefing room and communicating the president's decisions to the public — has been long been subsumed by Mr. Trump himself. She is expected to keep defending him on television."