Twitter Flags Trump's Tweet About Minneapolis Protests For "Glorifying Violence"
Twitter's action against Trump's tweet added to an already tense week between the president and the social media platform.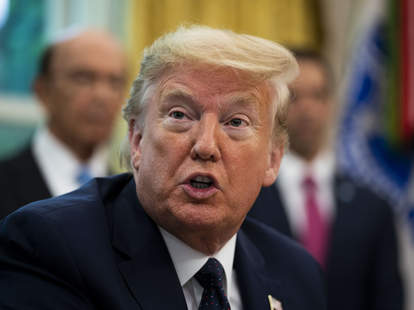 Twitter put a warning label on one of President Trump's tweets Friday, in which he suggested violence against protesters in Minneapolis who have been responding to the in-custody death of George Floyd after an officer kneeled on his neck. Twitter said the president's tweet "glorified violence."
Just after midnight Eastern time on Friday, Trump posted a tweet calling the crowds in Minneapolis, where protests have intensified throughout the week, "thugs," and saying they were dishonoring Floyd's memory.
He then threatened violence against them, saying, "Any difficulty and we will assume control but, when the looting starts, the shooting starts."
The platform put what it calls a "public interest notice" on Trump's acrid tweet, meaning that the tweet will be hidden behind a notice stating, "this Tweet violated the Twitter Rules about glorifying violence. However, Twitter has determined that it may be in the public's interest for the Tweet to remain accessible."
Twitter said it took issue with the "historical context" of the last line of Trump's tweet, which appeared to mirror a quote from former Miami Police Chief Walter Headley, who in December 1967 used the phrase, "When the looting starts, the shooting starts."
This Tweet violates our policies regarding the glorification of violence based on the historical context of the last line, its connection to violence, and the risk it could inspire similar actions today. https://t.co/sl4wupRfNH

— Twitter Comms (@TwitterComms) May 29, 2020
It also slapped a notice on an identical tweet posted from the official White House Twitter account. 
Minneapolis Mayor Jacob Frey, who Trump called a "Radical Left Mayor" in a derogatory tweet, criticized the president's leadership in response to the threatening tweet, saying "weakness is pointing your finger at somebody else during a time of crisis."
Twitter's action against Trump's tweet added to an already tense week between the president and the social media platform. On Wednesday, Twitter added a "get the facts" label to two of Trump's tweets falsely alleging that mail-in ballots constitute voter fraud – a move that the platform has never made before during Trump's time in the White House. 
Trump responded by threatening to regulate or shut down social media platforms that he and his supporters have for years accused of silencing conservative voices, without evidence. 
On Thursday, he signed an executive order that he said is designed to prevent "online censorship." Among other stipulations, the order calls for new regulations under Section 230 of the Communications Decency Act, which protects major tech companies from liability for content that people post on their platforms. Trump's order suggests that platforms should lose those protections when they begin to editorialize or comment on content, though legal experts have said the order will face scrutiny in court, and other critics have called it unconstitutional.
Unrest around the country in response to Floyd's murder has escalated over the past three days in various cities, and led to shocking moments like the arrest of CNN journalists on live TV.
Presumptive Democratic presidential candidate Joe Biden responded to Trump's threatening tweet, and said he will be addressing the ongoing unrest in Minnesota later on Friday.
I will not lift the President's tweet. I will not give him that amplification. But he is calling for violence against American citizens during a moment of pain for so many. I'm furious, and you should be too.

— Joe Biden (@JoeBiden) May 29, 2020