Two Artists Charged With Faking Indigenous Heritage To Make a Profit
After falsely identifying themselves as Native Americans, a pair of artists have been criminally charged.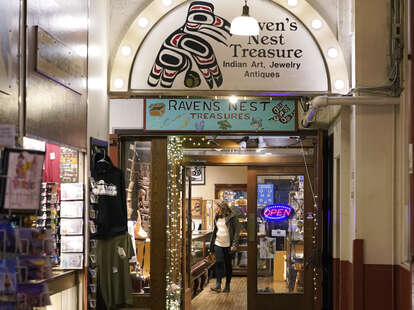 Two Washington state artists were separately charged with violating the Indian Arts and Crafts Act after misrepresenting their status as Native American.
According to the U.S. Attorney's Office, Lewis Anthony Rath, 52, said he was a member of the San Carlos Apache Tribe, while Jerry Chris Van Dyke, 67, who operated under the pseudonym Jerry Witten, claimed to be a Nez Perce Indian — neither had any tribal affiliation or heritage. Each sold a variety of art — including masks, totem poles, and pendants — respectively, at Raven's Nest Treasure in Pike Place Market and Ye Olde Curiosity Shop in 2019.
Matthew Steinbrueck, owner of Raven's Nest, told the Associated Press on Friday that he was unaware the goods were fabricated, believing the artists to be tribal members. "Our whole mission is to represent authentic Native art. We've had more than 100 authentic Native artists. I've always just taken their word for it," Steinbrueck said.
Edward Grace, assistant director of the U.S. Fish and Wildlife Service Office of Law Enforcement, said in a news release, "By flooding the market with counterfeit Native American art and craftwork, these crimes cheat the consumer, undermine the economic livelihood of Native American artists, and impair Indian culture." The probe into each case began when the Indian Arts and Crafts Board received complaints regarding the fraudulent artists.
Neither Raven's Nest or Ye Old Curiosity Shop have been charged. Seattle Indigenous rights attorney, Gabriel Galanda, who belongs to the Round Valley Tribes of Northern California, is pushing for accountability.
Galanda told the Associated Press, "There has to be some diligence done by these galleries."