Two Canadian Companies Received Permission To Make and Sell Cocaine, Heroin, and MDMA
However, Health Canada's approval only allows these drugs to be sold for scientific and research purposes.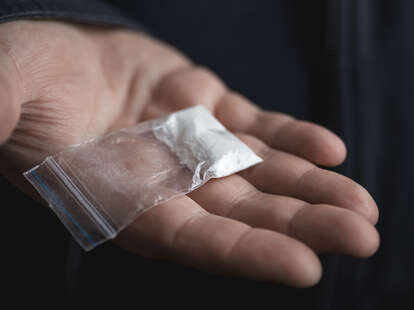 Credit: Getty Images
Credit: Getty Images
Two drug companies in British Columbia, Canada, say they have received authorization from the federal government to create and sell cocaine, heroin, MDMA, and other hard drugs. However, federal agency Health Canada's approval only allows these drugs to be sold for scientific and research purposes.
The move comes amid an ongoing three-year decriminalization experiment in British Columbia, aimed at curbing the number of lives lost to overdoses. The decriminalization policy allows people over 18 to possess up to 2.5 grams of cocaine, opioids, methamphetamine, and MDMA.
On March 2, Sunshine Earth Labs, a biosciences company, issued a statement saying that Health Canada was allowing it to create and distribute cocaine, coca leaf, psilocybin, MDMA, opium, morphine, heroin, and MDMA. The company noted that its mission is "to bring a safer supply of drugs to the global market."
Adastra, a cannabis company, announced on February 22, that Health Canada had given it permission to create cocaine, in addition to its existing psilocybin license. In the announcement, Michael Forbes, the CEO of Adastra, said that "harm reduction is a critically important and mainstream topic, and we are staying at the forefront of drug regulations across the board."
Following Adastra's statement, Health Canada issued a statement emphasizing that the sale of drugs was for scientific and research purposes only and that sale to the general public was not permitted. The agency noted that Adastra is only allowed to sell cocaine to other licensed dealers, such as pharmacists, doctors, hospitals, or researchers who have also been granted exemptions. "If the strict requirements are not being followed, Health Canada will not hesitate to take action, which may include revoking the license," the agency said.