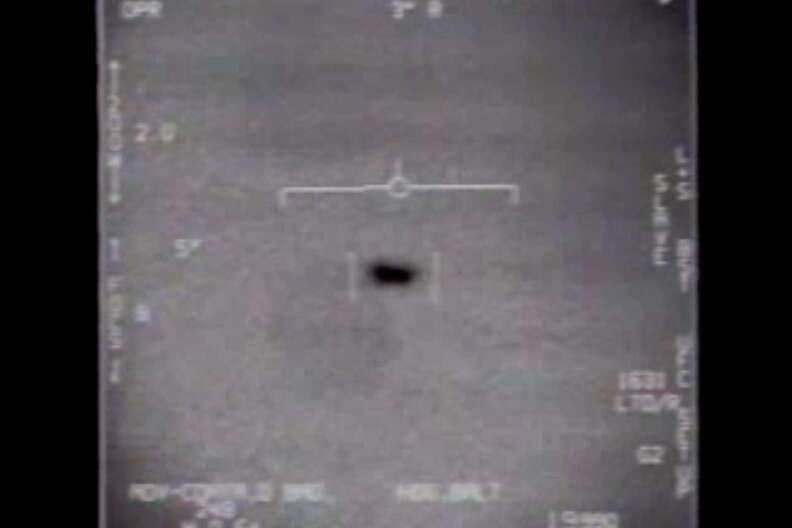 Reports of UFO sightings sharply increased during 2020 compared to the prior year, according to data from the National UFO Reporting Center (NUFORC), whose website says it is "dedicated to the collection and dissemination of objective UFO data."
The rise in sightings and reports is likely due to the number of people staying home because of the coronavirus pandemic, as well as people who have left crowded cities for more open spaces, the New York Times reported.
NUFORC says that UFO sightings increased by about 1,000 nationwide during 2020 compared to 2019, for a total of 7,200+ sightings. In states like New York, the number of sightings nearly doubled. The Times also reported that "about a quarter of the reports nationally came in March and April of last year, when lockdowns were at their most strict."
While stay-at-home orders or guidelines are major factors in the reported increase, they're not the only ones. The Pentagon brought more attention, and perhaps credibility, to UFO sightings last year when it declassified videos of "unidentified aerial phenomena" recorded by Navy pilots during training flights. The Department of Defense said in a statement at the time that the "aerial phenomena observed in the videos remain characterized as 'unidentified.'"
Peter Davenport, the director of NUFORC, told the Times that "it's encouraging to many of us in the field of ufology that the government is willing to confirm that they are aware of these circumstances, that they are conceding that people are reporting these events."
That said, Davenport and other "ufologists" want the public to keep in mind that an increase in reported sighting doesn't mean there are more UFOs flying around than usual — just that more people have extra time on their hands to call them in. Plus, lots of urban dwellers left cities for areas with less light pollution. Most sightings reported to NUFORC are false alarms and "swiftly determined to be things like birds, bats, satellites, planes and drones," Davenport noted to the Times. Reporter Sarah Maslin Nir wrote that "One viral TikTok video of an object hovering in New Jersey last year turned out to be a Goodyear blimp."
In August 2020, the Pentagon announced that it was establishing an Unidentified Aerial Phenomena (UAP) Task Force, with a mission "to detect, analyze and catalog UAPs that could potentially pose a threat to U.S. national security." In December 2020, then-President Donald Trump signed a coronavirus relief and government funding package into law that included a stipulation directing the Pentagon and other agencies to produce a report on UAPs by June 2021.
The Senate Intelligence Committee said the report should contain "detailed analyses" of UFO data and intelligence collected by the Pentagon task force, the Office of Naval Intelligence, and the FBI. Congress also requested that the report be unclassified, but allowed for "a classified annex."
Sen. Marco Rubio (R-FL), a high-ranking member of the committee, said in a recent Fox Business interview that he's not sure the government will meet the June 1 deadline, but that "we'll get a report at some point."
As he's said in the past, Rubio reiterated his past argument that UFOs may be a sign of advanced technology from a foreign adversary rather than evidence of alien life.
"We're sure we have lots of reports about what we call unidentified aerial phenomenon. There are a lot more sightings then have been made public," Rubio said in the interview on March 24. "Sometimes we wonder whether or not our adversaries have technologies that are a little bit further down the road than we thought or that we realized."
Not everyone agrees with that assessment. At least one Pentagon consultant and subcontractor, the astrophysicist Eric Davis, told Times reporters last summer that "he gave a classified briefing to a Defense Department agency as recently as March about retrievals from 'off-world vehicles not made on this Earth.'" Davis said after examining some of the materials, he concluded, "we couldn't make it ourselves."
Rubio might actually prefer that conclusion. In a July 2020 interview, the Florida senator said, "Frankly, if it's something outside this planet, that might actually be better than the fact that we've seen some technological leap on behalf of the Chinese or Russians or some other adversary that allows them to conduct this sort of activity."
He continued: "But the bottom line is that if there are things flying over your military [bases] ... that, to me, is a national security risk, and one that we should be looking into. … Maybe there is a completely, sort of, boring explanation for it. But we need to find out … [and] we're asking to make public as much as possible of that information."
Members of the public can report UFO sightings to NUFORC online here — but the organization kindly requests that you do not submit hoaxes.