UK Placed on Lockdown Amid Coronavirus Pandemic
"From this evening, I must give the British people a very simple instruction: you must stay at home,"—PM Boris Johnson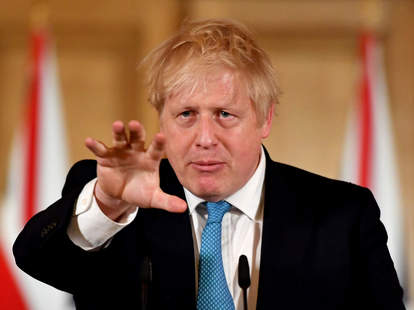 UK Prime Minister Boris Johnson has banned citizens leaving their homes except in "very limited" cases. Johnson announced the stringent restrictions in a televised statement on Monday, amid the global spread of the novel strain of coronavirus. 
As part of the lockdown, shops, gyms, and places of worship will also be shut down. Public gatherings such as weddings (but not funerals) will also be postponed, and authorities will fine individuals found breaking the rules.
"From this evening, I must give the British people a very simple instruction: you must stay at home," Johnson said, while iterating that people would still be able to leave their homes to shop for the "very basic necessities," for exercise, for medical reasons, and to travel to and from work "when absolutely necessary."
Johnson has previously resisted implementing strict self-isolating measures, but as the UK death toll climbed to 335, he doubled down on policies to stop the spread of the virus.
"To put it simply, if too many people become seriously unwell at one time, the NHS will be unable to handle it, meaning more people are likely to die, not just from coronavirus but from other illnesses as well," Johnson said referring to the National Health Service. "So it's vital to slow the spread of the disease."