Ukraine Launches Investigation Over Alleged Surveillance of Ex-U.S. Ambassador
The country's interior ministry announced the probe after documents were published involving Trump associates and former U.S. Ambassador Marie Yovanovitch.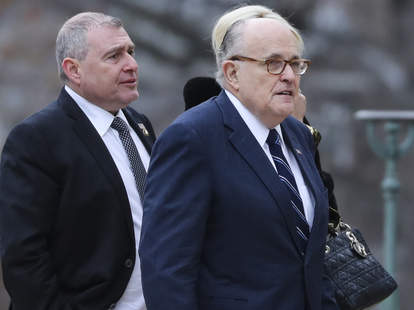 Ukraine's interior ministry announced a criminal probe on Thursday into whether President Trump's associates allegedly spied on former U.S. Ambassador Marie Yovanovitch.
The criminal investigation stems from the U.S. House Intelligence Committee's publication of documents earlier this week that suggest Yovanovitch was surveilled in Ukraine. Ukraine's Internal Affairs Ministry reportedly said in a statement that the country "cannot ignore such illegal activities" on its land and that national police had begun criminal proceedings after analyzing the messages.
Trump fired the diplomat Yovanovitch, who served under three U.S. presidents, from her post in May 2019. This was during the campaign from Trump's personal lawyer Rudy Giuliani and various associates to pressure the newly elected president of Ukraine into announcing an investigation into the Bidens.
The documents pointing to surveillance were released by House Democrats Tuesday as new evidence handed over by Lev Parnas, an indicted associate of Giuliani's, under subpoena by the House. The Senate is swearing in senators today to begin the impeachment trial of Trump, and is currently considering whether to call witnesses, which the White House is trying to block.
The documents show texts between Parnas and an associate Robert Hyde, a Connecticut Republican who is running for a Congressional seat, that suggest Hyde was in contact with people who were surveilling Yovanovitch's location in Ukraine.
The documents also show the Ukrainian-American Parnas, recently indicted on campaign finance charges, serving as a channel of communication between Giuliani and Ukrainian officials. Parnas sent one Ukrainian official a letter from Giuliani, in his capacity as "personal counsel" to Trump, to arrange a meeting with Ukraine's then-President-elect Volodymyr Zelensky.
Parnas and his fellow businessman Igor Fruman were indicted in October 2019 for allegedly funneling money from an unnamed Russian into U.S. elections. Parnas has pled not guilty to the charge.
In a separate inquiry, Ukraine investigators also announced today that they are examining a suspected Russian hack into computers at the gas company Burisma, another central player in the impeachment inquiries.
Security experts think Russian hackers may have been trying to get documents on Hunter Biden, Joe Biden's son who worked at the company, in order to disseminate disinformation (A.K.A. false info).
Ian McKenna contributed to this report.