University of Oklahoma Professor Likens "Ok Boomer" To Racial Slur, Students Say
He has since apologized for the offensive comparison.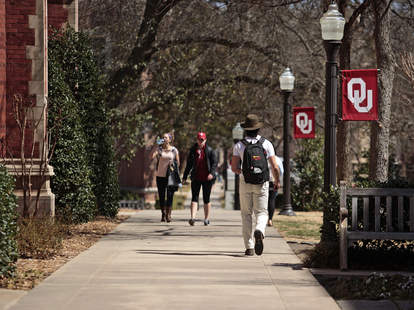 A professor at the University of Oklahoma has apologized after allegedly telling students that saying "Ok Boomer" was like using a racial slur.
According to the university's student newspaper, The OU Daily, Mass Communications professor Peter Gade responded to one of his students in class on Tuesday morning, who said journalists must keep up with younger generations, by saying that was, "the equivalent of saying 'OK, boomer' to him."
"Calling someone a boomer is like calling someone a n***er," he continued, according to the paper.
Several reporters for the university newspaper were present in Gade's Journalism, Ethics and Democracy class, which is a capstone course for journalism majors. The professor reportedly apologized to several students after the class was over, then apologized in an email to students Tuesday evening.

"I realize the word was hurtful and infuses the racial divisions of our country, past and present," he wrote, according to the paper. "Use of the word is inappropriate in any—especially educational—settings. I offer my deepest and most sincere apologies. In the coming weeks, I will strive to show you that I am an instructor and teacher who is trustworthy and respectful of all. Please give me that opportunity."
In a statement, the university's interim president, Joseph Harroz Jr. said that Gade's words were protected by the First Amendment and academic freedom, but that they were "fundamentally offensive and wrong."
"The use of the most offensive word, by a person in a position of authority, hurt and minimized those in the classroom and beyond," Harroz continued. "Our university must serve as an example to our society of both freedom of expression and understanding and tolerance. His words today failed to meet this standard."
The term "Ok boomer" was popularized last year on Tiktok as a triumphantly dismissive comeback for millennials and Gen Z members to use against the older generations.