We Will Not Be Silenced: Uplifting Trans Youth and Young Adult Voices in the Wake of Hundreds of Anti-Trans Bills 
With more and more bills targeting trans individuals getting introduced and passed, we're all left wondering how we're supposed to fight back against a system that wants to eradicate us.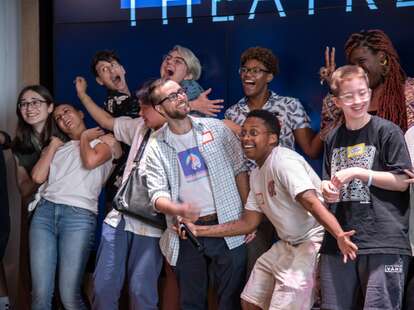 Credit: @nonbinary_eye - Kat Griffin
Credit: @nonbinary_eye - Kat Griffin
Disclaimer: While all the stories in this article are true, some names and identifying details have been changed to protect the privacy of the folks involved.
Content Warnings: Descriptions of mental health problems, suicide, death/dying, and transphobia.
This isn't the first time.
In the 1960s, courts were refusing to allow trans individuals to change their gender marker on their official documents. In the 1990s, there was a rise in violence against trans individuals without repercussions, largely due to policies like "don't ask, don't tell" and the Defense of Marriage Act. In 2015, when I was a 17-year-old high school senior, it was bathroom bills. While being bombarded with news articles about legislators who identified transgender people as "predators," I was expected to go to school, work my part-time job, and pretend everything was fine, when, in reality, I was trying to navigate my own trans identity. This rhetoric, and the physical manifestation of bills that followed, made me feel abnormal. Alone. Unwanted.
Now, almost 10 years later, anti-trans rhetoric and related legislation are on the rise, with more than 500 anti-LGBTQIA+ bills introduced, advancing, or passed in most U.S. states, affecting issues related to free speech and expression, schools and education, civil rights, health care, public accommodations, accurate IDs, and other LGBTQIA+ rights issues, according to the ACLU. With more and more bills targeting trans individuals getting introduced and passed, we're all left wondering how we're supposed to fight back against a system that wants to eradicate us. It's the same song, just a different verse.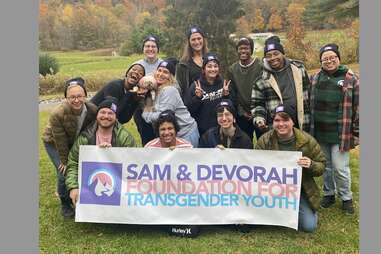 In April 2022, I came across Sam & Devorah Foundation for Transgender Youth's Trans Mentor Project through an ad from my university's Gay Students Alliance. The Trans Mentor Project is a national online mentoring program that provides trans and non-binary mentees (ages 13-24) with supportive, identity-affirming mentors (ages 23+). Currently, there are mentors and mentees in 37 states, and they continue to grow. The program offers trans youth the opportunity to connect and build community through workshops, group discussions, and guest presentations. I started off as a mentor for the Trans Mentor Project before becoming an intern in October 2022, where I help facilitate workshops, virtual hangouts, and check-ins with mentor and mentee pairs.
Throughout my time with the Trans Mentor Project, I've built a community with other trans youth and young adults around the country. While our focus is on empowering, uplifting, and supporting trans youth and young adults by sharing our wins, joys, and our moments of euphoria, we also make space for the moments of great pain and sadness that exist in our group discussions and between mentor and mentee pairs — especially regarding how to combat all the anti-trans rhetoric and legislation. We often talk about how resilient trans youth and young adults are, but we don't talk about the fact that many of us have had no choice but to build resiliency in order to survive.

Emily (she/her) is a 28-year-old mentor for the Trans Mentor Project. When speaking to me about her experiences as a young trans person, she began by recalling her thoughts and feelings when she realized she was trans. Rather than feeling like she could finally be her true self, the first feeling she felt at the time was one of dread and hopelessness. She felt like her life was over. "The way that transness gets depicted in the news, in media, in the stories we read, and share, and consume tells us as trans individuals that there are no successful, happy trans adults. Not only are we not allowed to be happy, but we rarely even exist in adulthood," she said.
Emily became a mentor to show trans youth that trans people can be happy and successful — and that our lives have a multitude of possibilities and aren't over because we're trans. As a mentor for the project, Emily has been able to share her moments of euphoria and dysphoria with other trans individuals to help them with their own struggles. With her mentee, she has felt joy in seeing them "become more confident and get louder, taking up the space they deserve as opposed to sitting in the back and not living life to the fullest."
Trans mentors like Emily allow trans youth and young adults a glimpse into the future that hasn't always been accessible. Emily's story reflects the feelings of many trans individuals, including my own, when it comes to their future. When I was younger, I was physically unable to picture a future for myself, and I read this as a sign that there was no future for me. This led to bouts of depression, anxiety, and suicidal ideations for most of my young adult life. Data from the National Library of Medicine indicates that 82% of transgender individuals have considered ending their own lives, and 40% have attempted suicide, with suicidality highest among transgender youth.
Nolan (he/him) is a Trans Mentor Project mentee who shared with me how his depression from having to hide his identity from his unsupportive family led to a suicide attempt. As a Black trans individual from Tennessee, he lives in the wake of multiple anti-trans bills that have already been passed, like the ban against gender-affirming care for minors. This past November, Nolan came out as trans, and even though he feels like he's finally able to be who he has always been, he still feels an immense amount of pain and loneliness due to the family he has lost. With the threat of even more bills being passed in his home state, he's considering moving to Chicago.
Rocky (they/them) is a trans individual from Florida, a state that's also dealing with anti-trans bills. One prospective Florida bill, S.B. 254, would prohibit gender-affirming care for minors and classify it as child abuse. Parents who allow their kid to receive that care would get them taken away and placed under state custody. The bill passed in May 2023, but in June a federal judge temporarily blocked parts of it from going into effect.
Rocky gave a heavy sigh as they spoke about the emotional toll this bill, and others like it, have put on them. "I have not started medically transitioning yet, and I worry about whether or not I will be able to start HRT or if it will be denied on my insurance, or worse — completely banned," they said. For many trans individuals, hormone replacement therapy is life-saving health care. It's suicide prevention.
Even for trans youth living in states currently free of anti-trans bills, the emotional weight of the bills is still real. A poll by The Trevor Project showed that 86% of transgender and non-binary youth reported that debates around these bills have a negative impact on their mental health. 45% reported they experienced an increase in cyberbullying because of these policies or debates, and almost 1 in 3 reported they didn't feel safe going to a doctor or hospital.
Germane (he/him) is a 15-year-old mentee. He joined the Trans Mentor Project because his mother wanted him to have a trans adult figure in his life. He told me how important seeing and being able to connect with trans adults has been for him. "Being able to talk about everything from my gender identity to how my day is going with someone who has gone through similar experiences has allowed me to feel less lonely, and gain confidence in myself, and look forward to the future," he said. When trans youth have a supportive and accepting adult in their life, it can reduce the risk of a suicide attempt by 40%.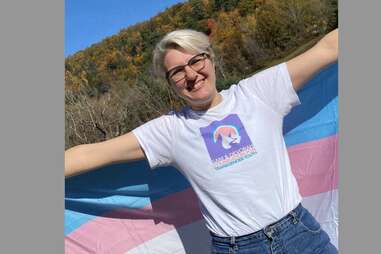 This is why programs like the Trans Mentor Project are so necessary for trans youth and young adults. When asked about the importance of community and safe spaces for trans individuals, Rocky described their experience with online communities and being able to find meaningful connections with other BIPOC trans folks, saying, "Community is everything. Community gives me the will to keep living, a roof over my head, food, clothes, gender-affirming items. I wouldn't be here if not for the community that's cared for me as I stand on my feet."
For Rocky and many other trans individuals, finding safe spaces and being able to connect with other trans people is life-saving. Mentoring programs like the Trans Mentor Project connect trans youth and young adults to a trans mentor who they can go to for support and empowerment. In our current sociopolitical climate, where queer and trans people are seemingly only in the news when they're being persecuted, the Trans Mentor Project celebrates our joy and our futures, empowering us to not only imagine alternate ways of being but bring them to fruition.
There are days when just the thought of what is happening to trans individuals all over the country paralyzes me with fear. I heard once that when you heal there is supposed to be a scar left. That scar is a reminder that things were once much worse than they are today and that you need that reminder going forward in order to prevent future injury. There is no doubt that these anti-trans bills have left scars, but the trans youth and young adults that I talked to are hopeful for the future — a future filled with euphoria and love, with support and community, with acceptance, with proper representation. Rocky and Alex (they/them), another mentee, both mentioned that just chipping away at gendered language or gendered institutions can help cisgender individuals think more critically about gender and how it's socially constructed. However, they both acknowledged that this is easier said than done.
We're still trying to figure out what it means to be trans in a country that's actively trying to eradicate us. Each anti-trans bill that gets introduced or passed is another blow, but it won't stop trans individuals, especially trans youth, from existing.
"All these bans are just adding fuel to the fire we've been fighting for decades," Rocky said. "I'm mostly concerned for trans youth because they don't have the same level of control. They're reliant and dependent on structures. And those structures are failing them, and it's really sh*tty." Rocky's comment speaks not only to the need to listen to and uplift young trans voices but also to the importance of finding a community of people who will be there for you when these structures fail.
We're still here, despite everything and everyone that doesn't want us to be. We build our own spaces, not waiting for the day that one will be made for us. We're re-examining how we've been represented and how our stories have been told, and demanding more and better stories told by us and not on behalf of us.
This isn't the first time. It won't be the last. We continue to grieve, but we also continue to exist despite those who would rather we disappear. We're showing that trans people are meant to exist.
We will always exist. We will always exist. We will always exist. And we will always continue to exist.
And we will always continue to find communities of other trans individuals to support us, to empower us, which allows us to imagine better futures and begin to fight back against injustice.
— Sof Voet (they/them) is a queer, non-binary, trans, and Eeyamquittoowauconnuck writer born and raised in Appleton, Wisconsin. Currently, they're an English Ph.D. student at the University at Albany. Sof can be found on Instagram @sofvoet.