U.S. Capitol Officer's Death After Pro-Trump Riot Prompts Investigation
Officer Brian Sicknick died of his injuries in connection to Wednesday's violent riot that breached the Capitol. Police said the homicide team is involved.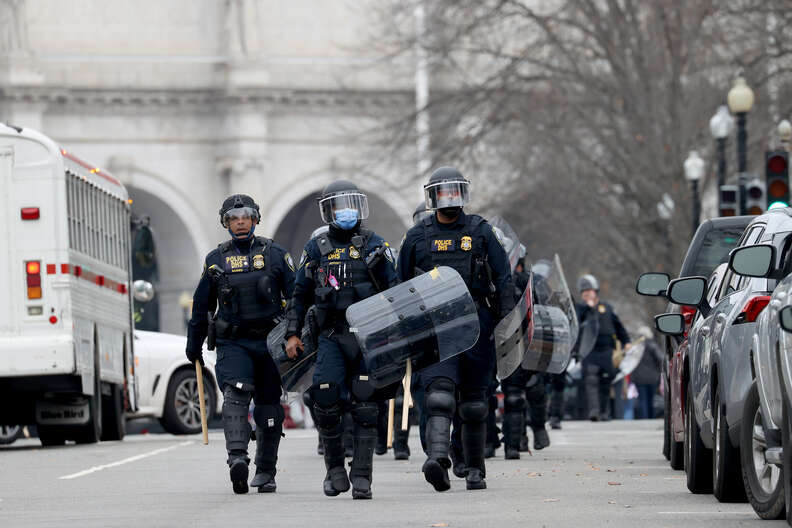 Federal officials and police have launched an investigation after a Capitol police officer died as a result of the violent attack on the Capitol Wednesday that left four others dead and dozens more injured.
The United States Capitol Police announced on Thursday that Officer Brian Sicknick, 42, died from his injuries after "physically engaging" with rioters who forced entry into the Capitol. According to police, Sicknick, who had been with the force since 2008, "returned to his division office and collapsed." He was taken to a local hospital and died Thursday night.
According to acting Attorney General Jeffrey Rosen, the FBI, and Metropolitan Police Department, along with USCP and Metro Police homicide branch, will conduct an investigation into his death. Rosen said the Department of Justice will "spare no resources in investigating and holding accountable those responsible."
More than 50 officers were injured on Wednesday after a violent mob of Trump supporters staged an insurrection and breached the Capitol while members of Congress were certifying President-elect Joe Biden's win. (Congress reconvened and certified Biden's win early Thursday.)
Sicknick and four others died. Metropolitan Police have said officers recovered two pipe bombs and a cooler of Molotov cocktails while responding to the riot.
Multiple outlets reported that Sicknick may have been hit over the head with a fire extinguisher during Wednesday's riot. The reports of this attack have not yet been confirmed by officials.
Virginia Gov. Ralph Northam (D) said in a statement that Sicknick was a resident of Northern Virginia and was a military veteran.
"Officer Sicknick was killed while doing his job—defending those trapped in the Capitol building amid a violent attack on our democracy," Northam wrote. "His death is a tragedy, and those responsible must be prosecuted to the fullest extent of the law."
House Speaker Nancy Pelosi on Friday ordered that all flags at the Capitol be lowered to half-staff in honor of Sicknick and said, "The perpetrators of Officer Sicknick's death must be brought to justice."
"The violent and deadly act of insurrection targeting the Capitol, our temple of American Democracy, and its workers was a profound tragedy and stain on our nation's history," Pelosi wrote in a statement. "But because of the heroism of our first responders and the determination of the Congress, we were not, and we will never be, diverted from our duty to the Constitution and the American people."