U.S. Confirms First ICE Detainee to Have Died From COVID-19
Carlos Ernesto Escobar Mejia, a 57-year-old immigrant from El Salvador, died early Wednesday after contracting COVID-19 while in ICE custody.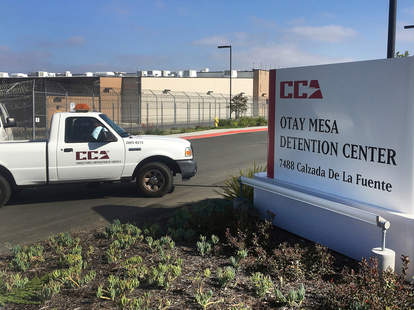 Carlos Ernesto Escobar Mejia, a 57-year-old immigrant originally from El Salvador, has become the first known detainee in the United States' vast immigrant detention system to die from COVID-19.
The Immigration and Customs Enforcement confirmed Thursday that Escobar Mejia died at a local hospital on Wednesday. He had been held at the Otay Mesa Detention Center in San Diego, which has more confirmed cases than any other facility.
ICE said Escobar Mejia was transferred to a local hospital on April 24 after showing symptoms of COVID-19. He tested positive for the disease caused by the coronavirus that same day.
"This death was preventable, full stop," Silky Shah, the Executive Director of immigrants' rights group Detention Watch Network, said in a statement. "It was only a matter of time until COVID-19 outbreaks occurred in detention and people lost their lives."
Escobar Mejia had been detained at the Otay Mesa Detention Center — a facility owned and operated by CoreCivic, one of the nation's largest for-profit private prison companies.
In recent days, Otay Mesa Detention Center has become the epicenter of ICE's COVID-19 outbreak — confirming more cases of the disease than any other immigrant detention facility in the U.S.
At least 132 detainees and 10 CoreCivic employees at the detention center have tested positive for COVID-19, according to the agency's publicly released data as of Wednesday. ICE said it had 705 confirmed cases of COVID-19 among the detainees in its custody nationwide, and that it had tested roughly 1,400 detainees — a small fraction of the nearly 30,000 still in detention centers scattered across the country.
ICE told NowThis in a statement that it will conduct a "comprehensive review" of Escobar Mejia's death.
"ICE is firmly committed to the health and welfare of all those in its custody and is undertaking a comprehensive agency-wide review of this incident, as it does in all such cases," a spokesperson for the agency said on Thursday.
A spokesperson for CoreCivic told NowThis on Thursday that the group is "deeply saddened" to learn of Escobar Mejia's passing.
Last month, the ACLU of San Diego & Imperial Counties filed a class-action lawsuit against ICE and CoreCivic, demanding they reduce the number of detainees in its custody at the Otay Mesa Detention Center to protect them from the spread of the coronavirus.
Last Friday, a federal judge ordered ICE and CoreCivic to begin releasing medically vulnerable detainees from custody as the Otay Mesa Detention Center grappled with its outbreak of COVID-19.
By Monday, ICE had identified about 130 detainees at Otay Mesa Detention Center whom it considered medically vulnerable — but only two of those identified had reportedly been released.
"We continue to call on ICE and CoreCivic to act urgently and with humanity," said Monika Y. Langarica, an immigrants' rights staff attorney at the ACLU of San Diego & Imperial Counties, in a statement. "This tragic news is even more evidence that failing to act will result in cruel and needless death."
ICE has recently come under increased pressure from various medical experts and immigrants' rights groups to release the vast majority of the nearly 30,000 detainees currently in its custody to limit the spread of the deadly disease.
ICE has the legal authority to immediately release most of those in its custody because all immigrant detainees in the U.S. are being held on civil immigration violations, not for criminal offenses.
The name of the detainee has been updated to reflect an interview his family gave to the Los Angeles Times.