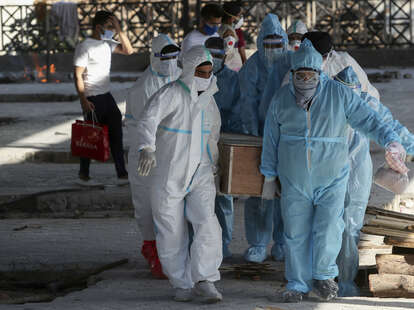 The U.S. will restrict travel from India next week as COVID-19 ravages the country and potentially dangerous variants become more widespread.
The travel restriction takes effect on Tuesday, May 4, and will not apply to citizens or permanent residents of the U.S.
On Friday, the White House said that the President was advised by experts at the Centers for Disease Control and Prevention that multiple variants were spreading throughout India.
"The policy will be implemented in light of extraordinarily high COVID-19 caseloads and multiple variants circulating in India," press secretary Jen Psaki said in a statement, according to multiple outlets.
India recorded more than 386,000 new daily infections on Thursday and nearly 3,500 deaths, according to Johns Hopkins. Public health experts believe the actual number of deaths far exceeds official reports.
And many worry it will continue. For nine straight days, the country has tallied more than 300K daily new cases, according to data from Johns Hopkins.
The White House said on Wednesday that it is sending $100M worth of medical supplies to India. The supplies include oxygen cylinders, PPE, testing kits, raw material to manufacture vaccines, and drugs used to treat moderate to severe cases of COVID-19.
"We have a responsibility as the United States in particular, as it relates to the people that we have partnered with over the years to, to step up when people are in a time of need," Vice President Kamala Harris said Friday in Cincinnati.
Also on Friday, members of the House Caucus on India and Indian Americans wrote to President Biden, urging him to send extra doses of the AstraZeneca vaccine, which has not yet been approved for use in the U.S.
The White House said it intends to share its inventory of the AstraZeneca vaccine with other countries, though it did not identify which countries yet.
Indian Prime Minister Modi declared victory over the coronavirus in January, but by March, a devastating surge of the virus took hold in India. Experts attribute the worsening surge to a combination of factors, including complacency, more infectious variants, and large religious and political gatherings.
The country is breaking case and death records daily and ranks second globally behind the U.S. for most COVID-19 cases.