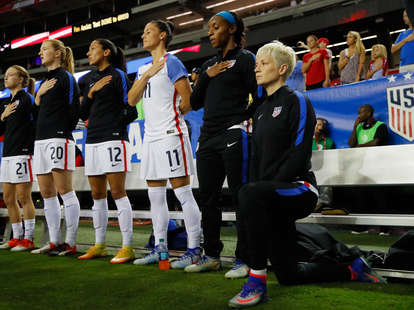 Getty Images/Megan Rapinoe kneels during the National Anthem prior to the match between the United States and the Netherlands at Georgia Dome on September 18, 2016
The U.S. women's national team has called for the United States Soccer Federation (USSF) to repeal a policy that bans players from kneeling during the national anthem as well as issue an apology to Black players and fans.
On Monday the team issued a statement asking the federation to repeal the "Anthem Policy," as well as "lay out its plans on how it will now support the message and movement that it tried to silence four years ago."
"Until USSF does so, the mere existence of the Policy will continue to perpetuate the misconceptions and fear that clouded the true meaning and significance of Colin Kaepernick, Megan Rapinoe and other athletes taking a knee—that Black people in America have not been and continue to not be afforded the same liberties and freedoms as white people and that police brutality and systemic racism exist in this country," the statement continued.
The U.S. Soccer Athlete Council also released a statement, encouraging the federation's Board of Directors to repeal the policy and "join us in our quest to allow an athlete to peacefully protest."
According to a report by Reuters, USSF was expected to hold a meeting Tuesday to discuss its anthem policy, which the organization passed in 2017, and members may vote on whether to repeal it by Friday. The USSF passed the policy after USWNT star Rapinoe took a knee during the anthem at several national team matches during 2016, in solidarity with then-San Francisco 49ers quarterback Colin Kaepernick. Kaepernick, who is now a free agent, kneeled during several NFL matches to bring awareness to racism and police brutality in the country.
"Being a gay American, I know what it means to look at the flag and not have it protect all of your liberties," Rapinoe said following the small act of protest. "It was something small that I could do and something that I plan to keep doing in the future and hopefully spark some meaningful conversation around it."
The U.S. Soccer statements come after NFL Commissioner Roger Goodell last week released a video, saying that NFL officials were "wrong for not listening to NFL players earlier." Goodell's statement, which was released amid nationwide demonstrations protesting police brutality and the death of George Floyd, came four years after Keapernick's public protests against the national anthem. At the time of Kaepernick's demonstrations, league officials didn't clearly support him, and he has remained unsigned by any NFL team since 2017. But demonstrations ignited a national conversation on sports and free speech, and Kaepernick has remained in the spotlight.
Earlier last week, several NFL players also appeared in a tribute video to Floyd and other Black people killed at the hands of police, repeating the phrase "Black lives matter."