Virgin Launches Adult-Only Cruise Line
The launch comes just after another cruise ship was quarantined because hundreds of passengers were infected with the coronavirus.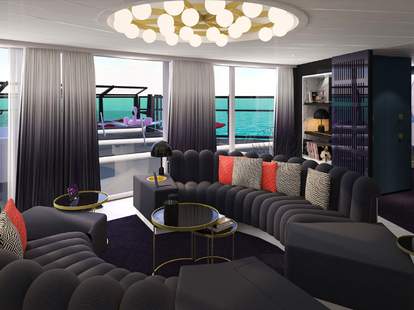 British billionaire and entrepreneur Richard Branson is taking his latest venture out on the sea with a new cruise line.
The new cruise company, Virgin Voyages, has finished its first luxury ship, The Scarlet Lady, and it's adults-only. The new spin on cruises is intended to attract younger people and will feature "Instagrammable" rooms, a tattoo and piercing parlor, multiple dining and drinking choices, and a chic design. 
Prices for a cabin on board the Scarlet Lady start at $1,600 for three and four-day packages, and go up to more than $19,000. The rooms are "superyacht-inspired" and feature automated technology and rockstar-esque decor.
The cruise ship is currently docked in Port of Dover in England, but is set to start sailing in April around the Carribean. Two other ships are expected to join the fleet of Virgin Voyages in 2021 and 2022.
Branson's dip into the cruise industry may have started in 2014, but his launch of the company's adults-only ship is undoubtedly strange timing. Earlier this week, passengers and crew on the Diamond Princess cruise were released from weeks of being quarantined off the coast of Japan after the coronavirus infected more than 600 of the 3,700 people on-board, and killed two. After China, the cruise was the second largest case of coronavirus in one location. 
Virgin acknowledges the risks and fears of the coronavirus on their website saying, "We understand that people have concerns about the Novel Coronavirus. Rest assured, the safety, security, and comfort of all our Sailors and Crew are our top priority. We are implementing proactive safety measures as detailed below, including enhanced health screenings prior to embarkation for all ship visits and voyages."
One of their policies implemented to prevent the virus spreading on their ship include "Deny boarding to all persons who have traveled from, visited or transited via airports in China, including Hong Kong and Macau, within 21 days before embarkation."
In 2019, the cruise industry expected 30 million travelers, which is up from 17.8 million from the decade before. The rapidly growing industry has impacted international tourism in major cities but has been criticized for over tourism and increased pollution at ports.