Virginia Governor Was Also A Possible Target In Alleged Michigan Militia Plot, FBI Says
An FBI member said members of the group also discussed "taking" Northam while meeting in Dublin, Ohio.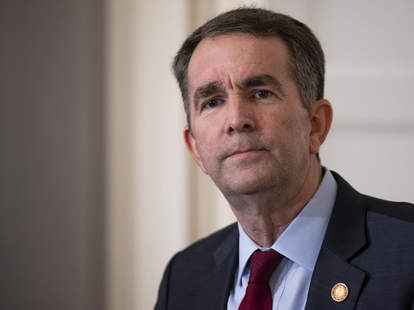 Virginia Gov. Ralph Northam was a possible target of the anti-government group that was charged last week for plotting to kidnap Michigan Gov. Gretchen Whitmer, an FBI agent said on Tuesday.
During a hearing in Grand Rapids, MI about federal charges filed against some individuals tied to a militia group, FBI Special Agent Richard Trask said that some defendants had also discussed "taking" Northam during a meeting in Dublin, Ohio.
"At this meeting, they discussed possible targets, taking a sitting governor, specifically issues with the governors of Michigan and Virginia, based upon the lockdown orders," Trask said at the hearing, according to multiple outlets. 
Gov. Northam, a Democrat like Gov. Whitmer, addressed the allegation on Tuesday. 
"It's unfortunate," Northam said, but added, "I will not work under a cloud of intimidation. That's not who I am."
He also referred to his years as an Army doctor, including in Operation Desert Storm, saying, "I have been in harm's way. We knew we were in harm's way, but I wasn't intimidated by that."
"What's different now, which is concerning, is that the people who are making comments and rhetoric about our elected officials – it's not just me – this is not coming from another country. It's coming from Washington. And that I regret. And it needs to stop," Northam said.
In a statement Tuesday Gov. Northam's press secretary, Alena Yarmosky said, "The FBI alerted key members of the Governor's security team throughout the course of their investigation," but that the governor and other members of his staff weren't alerted "per security protocols for highly classified information."
"At no time was the Governor or his family in imminent danger," the statement continued, adding that extra security measures "have been in place for Governor Northam and his family for quite some time, and they will remain."
On October 8, six men were charged with conspiracy to kidnap in connection to the plot against Whitmer, which was detailed in an affidavit first reported by the Detroit News. On the same day, the Michigan Attorney General's office announced 19 felony charges under Michigan's anti-terrorism law against seven other people who are members of or have ties to the "Wolverine Watchmen" militia group.
The six men facing federal charges met in person in Dublin, Ohio in June and discussed "creating a society that followed the U.S. Bill of Rights and where they could be self sufficient," according to the affidavit. The group was motivated by a belief that state governments, including Michigan's, were violating the U.S. Constitution, according to the affidavit.
The affidavit unsealed in federal court also alleged that a confidential source attended and recorded other meetings and discussions by members in the following months, which involved firearms training and other combat drills. Members also discussed "200 men" storming the state Capitol building in Lansing, Michigan, and taking hostages, including Gov. Whitmer. The affidavit also alleges that conspirators twice conducted surveillance at Whitmer's vacation home and discussed kidnapping her to a remote location in Wisconsin for "trial."
Both Whitmer and Northam established and enforced stringent measures meant to quell the spread of the coronavirus earlier this year.
Last week, Whitmer suggested that President Trump was "complicit" in the alleged plot against her while calling out his continued refusal to denounce hate groups. Yarmosky's statement also alluded to Trump, who tweeted in April for both Michigan and Virgina to be "liberated."
LIBERATE VIRGINIA, and save your great 2nd Amendment. It is under siege!

— Donald J. Trump (@realDonaldTrump) April 17, 2020
In response to the comments, White House press secretary Kayleigh McEnany said in a statement Tuesday, "President Trump has continually condemned white supremacists and all forms of hate."
"Governor Whitmer, and now Governor Northam, are sowing division by making these outlandish allegations," McEnany said. "America stands united against hate and in support of our federal law enforcement who stopped this plot."
Michigan county sheriff Dar Leaf also drew criticism last week when he defended the alleged kidnappers during an interview with CNN affiliate WXMI.
"It's just a charge, and they say a 'plot to kidnap' and you got to remember that. Are they trying to kidnap?" Leaf said. "Because a lot of people are angry with the governor, and they want her arrested. So are they trying to arrest or was it a kidnap attempt? Because you can still in Michigan if it's a felony, make a felony arrest."