Virginia School Board Members Outraged Over "Sexually Explicit" Books
After a parent raised concerns during a Spotsylvania County School Board meeting about "sexually explicit" books, a board member suggested burning them.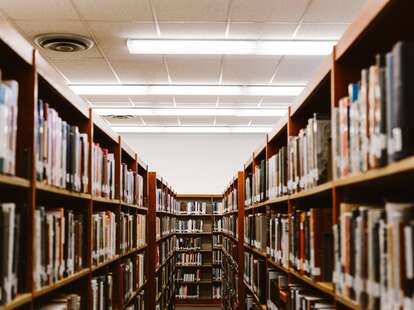 Amid the GOP's campaign against schools teaching about sexuality and race, a Virginia school board voted to remove—and in some cases, burn—books deemed to be "sexually explicit."
Staffers at Riverbend High School in Fredericksburg, VA, began pulling "sexually explicit" material from circulation on library shelves after a parent raised concerns during a Spotsylvania County School Board meeting on Monday.
The mother, who was initially alarmed by LGBTQ+ fiction content in the high school's library, also cited the novel "33 Snowfish" by Adam Rapp, a work which details the lives of three runaway teenagers after they were faced with prostitution, drug addiction, and sexual abuse.
The board ultimately voted 6-0 in favor of the removal, and subsequently requested a report on the book selection process for digital and hard copy library collections.
Two board members, Rabih Abuismail and Kirk Twigg, shared strong opinions related to the presence of the books on school shelves. Abuismail said he "didn't even want to see" the books, noting that he thought "they should be thrown in a fire."
Abuismail also contended that the school library's housing of the books in question demonstrated that schools "would rather have our kids reading gay pornography than about Christ." Additionally, he called out Spotsylvania County Public Schools Superintendent Dr. Scott Baker, posing the question", "Dr. Baker, you saw this coming from Northern Virginia — did it not occur to you to check what is on our libraries?"
Twigg said he wanted to see the books under scrutiny, "so we can identify within our community that we are eradicating this bad stuff."
Many social media users responded to the book burning attempt, with many individuals expressing concern in the wake of Republican Glenn Youngkin being elected as Virginia's new governor. Youngkin has been known to incentivize and ignite anger around race and gender issues in schools as a tactic to secure his seat as governor.
The Spotsylvania County School Board's decision comes shortly after Texas Gov. Greg Abbott (R) and other Republican lawmakers from the Lone Star State began an inquiry into books in public schools with subject matter related to race and gender. Abbott and others are seeking to oust LGBTQ+ reading material from Texas schools, with Abbott referring to the content as "pornographic and obscene.
The most recent investigations in Virginia and Texas underscore the GOP's nationwide effort to eradicate instruction on race, gender, and sexuality, further demonstrating a situation of extreme policies at play.