Washington's NFL Team Says It Will Finally Change Racist Name And Logo
Activists said the change has been "30 years in the making" and that they "will not rest until the offensive use of Native imagery, logos, and names are eradicated from professional, collegiate, and K-12 sports.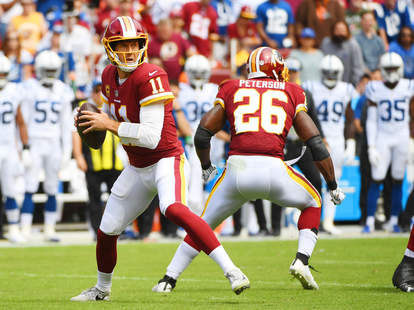 Getty Images / NFL Player Alex Smith drops back for a pass in the first quarter against the Indianapolis Colts at FedEx Field.
The Washington's NFL franchise announced on Monday that the team will be dropping its controversial name and logo, following years of scrutiny from critics and activists who called out the name and imagery as being racist toward Native Americans.
"Today, we are announcing we will be retiring the Redskins name and logo upon completion of this review,'' the team said in a statement.
The statement also said team owner Daniel Snyder and head coach Ron Rivera "are working closely to develop a new name and design approach that will enhance the standing of our proud, tradition rich franchise and inspire our sponsors, fans and community for the next 100 years."
The NFL team's announcement follows weeks of protests demanding an end to police brutality against Black people, and the demonstrations have also called out other racist systems and figures the U.S. has historically upheld.
Some Indigenous figures praised the team's review and decision to retire its name and logo.
"Today we celebrate the retirement of the Washington NFL football team name that has long perpetuated racism and harm against Native peoples. This is 30 years in the making, and we honor the leaders of this movement, Suzan Harjo and Amanda Blackhorse, and important contributors such as Dr. Stephanie Fryberg, First Peoples Worldwide and thousands of other Native organizations, people and tribal leaders who have fought for this," IllumiNative Executive Director Crystal Echo Hawk said in a statement.
"Tomorrow, our fight continues," the statement continued. "We will not rest until the offensive use of Native imagery, logos, and names are eradicated from professional, collegiate, and K-12 sports. The time is now to stand in solidarity and declare that racism will not be tolerated."
Earlier this month, on July 3, the Washington NFL team announced that it would undergo a "thorough review" of the team's name. That same day, professional baseball team the Cleveland Indians also announced that the team is willing to have a discussion with their community as well as stakeholders regarding the team's name.
The Washington team's July 3 announcement came a day after shipping giant FedEx sent the team a letter saying the company would demand its name be removed from the team's stadium in Landover, MD if it didn't change its name. At the end of June, investment firms also asked Nike, FedEx, and PepsiCo to end their business relationships with the team if the name wasn't changed, Adweek reported.