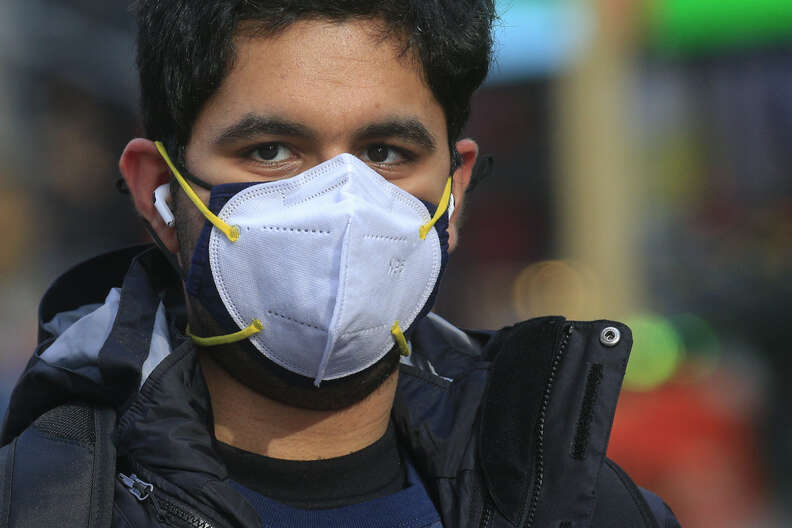 Experts are now recommending that people consider double masking to help slow the spread of COVID-19, more than a year after the first case of the disease was reported in the U.S.
Three new variants of the COVID-19 virus that emerged in the UK, South Africa, and Brazil are spreading globally, according to the Centers for Disease Control and Prevention. While the UK variant "spreads more easily and quickly than other variants," it has not yet been proven to cause more severe illness or higher risk of death, the CDC said.
With all three COVID-19 variants have been recently detected in the U.S., and the government working to expedite the massive national vaccine rollout, some experts are saying that double-masking is the way to go.
In an interview Monday with NBC's "TODAY," Dr. Anthony Fauci, leading infectious disease expert and Chief Medical Adviser to President Joe Biden, said that two masks could provide an additional layer of protection against COVID-19.
"This is a physical covering to prevent droplets and virus to get in," Fauci said. "So if you have a physical covering with one layer, you put another layer on, it just makes common sense that it likely would be more effective and that's the reason why you see people either double-masking or doing a version of an N95."
A study by researchers at Duke University published last summer found that N95 masks were the most effective at protecting people wearing the mask and others around them. Three-layer, woven surgical masks were the second most effective choice for catching droplets, followed by multi-layered cotton and polyester masks, researchers found.
Former CDC director Tom Frieden echoed experts' advice for people to consider buying higher-quality masks.
The CDC has not yet officially recommended wearing two masks, but still urges people to properly wear a facial covering over the nose and mouth. According to Johns Hopkins University data analyzed by CNN, January has been the deadliest month of the pandemic with more than 79,000 deaths as of Tuesday.
Several attendees at Biden's inauguration on January 20 including the president's Transportation Secretary nominee Pete Buttigieg, a former mayor in Indiana, his husband Chasten, and poet Amanda Gorman were shown wearing two layers of masks.
Fauci said that the U.S. will be "faced with another challenge" if one of the variants becomes dominant. "TODAY" anchor Savannah Guthrie asked Fauci about new research that suggests Moderna's vaccine may be less effective against the South African variant.
"There is a very slight, modest diminution in the efficacy of a vaccine against it, but there's enough cushion with the vaccines that we have that we still consider them to be effective," Fauci said.
President Biden announced on Tuesday that the U.S. would order an additional 200 million doses of both Pfizer and Moderna's vaccines. Biden said increased vaccine supply could provide enough doses to vaccinate 300 million Americans by the end of summer. The president included a significant caveat to his projections.
"We're going to do everything we can to get it done," he said of the mass vaccination effort. "But a lot of things can go wrong along the way."
As the vaccines continue to roll out, Fauci said, "We don't want to get complacent."
"We do have circulating now in this country a variant from the UK that's in over 20 states right now, that is a variant that has a better capability of being transmitted more efficiently from person-to-person," Fauci said.
As of Thursday, more than 25 million people in the U.S. have tested positive for COVID-19, including at least 430,000 deaths, according to Johns Hopkins University.