West Virginia Mother Shares First-Ever Abortion Story During A SCOTUS Confirmation Hearing
"Who I am today is only possible because, at 16 years old, I had access to an abortion."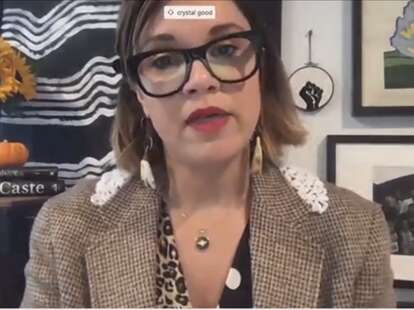 A West Virginia woman gave the first-ever testimony about having an abortion during the final day of Senate confirmation hearings for Supreme Court nominee Amy Coney Barrett.
Crystal Good, a mother, writer-poet, and small business owner, on Thursday virtually relayed her powerful story of experiencing an "unintended pregnancy" at the age of 16.
"Who I am today is only possible because, at 16 years old, I had access to an abortion," Good said. "As a minor in a state with a parental consent requirement, that access was dependent on a judge, because, without a shadow of a doubt, the adults closest to me would not advocate for me, and I could not trust them."
Good's testimony came as many wonder how Barrett's appointment to the Supreme Court could endanger Roe v. Wade, which federally protects a woman's rights to choose to have an abortion. Barrett, who has a record of ruling against abortion rights, refused during her confirmation hearing to state how she would act on Roe v. Wade if she were to be appointed to the country's highest court.
Good, who identified as Black, said that she was sexually abused by her white stepfather for around 10 years. She then experienced an unintended pregnancy at age 16 while "in a relationship that brought me joy and made me feel safe."
"Immediately, I knew that I wanted an abortion. A very safe medical procedure that 1 in 4 U.S. women will have in their lifetime," she continued.
As a minor who had a complicated relationship with her mother, Good said that she couldn't access the medical procedure via parental consent, so she instead sought a judicial bypass — a process by which a judge rules whether an individual can have the abortion without telling a parent.
Good detailed the challenges of navigating the judicial process while also dealing with her schoolwork. Once she was able to speak in front of the West Virginia judge, she said she was a "good student," and a "leader," and that she wanted to go to college to be a writer.
"I said, your Honor, I have a future. I want an abortion," she explained. "Thankfully, he granted permission. It felt like a miracle, that an adult believed ME; an authority figure deemed ME to be in charge of my own body and my own future."
Good alluded to the thousands of women around the country who have experienced situations similar to hers, and how government restrictions on abortion harm people seeking abortions by offering fewer resources for care.
"The Supreme Court has made historic decisions that uphold our rights and freedoms: my right to abortion, the integration of my public schools, the Affordable Care Act that ensures I have health insurance, and workplace protections for my transgender daughter." she said. "As a parent and a Black woman who had an abortion, I have put my faith in the Supreme Court, and with this nomination, I am losing faith."
She also said she and other survivors advocated for a West Virginia law known as Erin Merryn's Law (or Erin's Law), which provides resources toward the prevention of child sexual abuse.
"For decades, it felt like no one could hear me, no matter how many times I cried out for justice. But I found my voice. I built a life and a family and a career, and helped create something that will ensure our children in West Virginia are heard and protected," she said. "I did all of that, because I had an abortion."
Finally, Good addressed President Trump's apparent intention to see Roe v. Wade overturned, saying he has appointed conservative justices he believes would help make a repeal possible.
"President Trump has been clear that he would only appoint justices who would overturn Roe v. Wade. Unfortunately, through learning about Judge Barrett's record, I understand why the President believes she passes that test," she said. "Please, listen to people who have abortions. Hear us when we ask you, do not confirm this nominee. Our futures, families, and lives depend on it. We, too, are America."
Many online praised Good for her historic testimony advocating for an individual's right to choose.