What Is A Ventilator, and What Companies Are Trying To Make Them?
The U.S. has a shortage of ventilators, which are life-saving machines that help patients breathe, needed for the most severe cases of the respiratory illness COVID-19.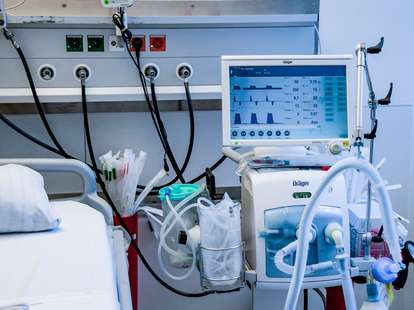 Since the coronavirus pandemic has ravaged the U.S., lawmakers, business leaders, and health care workers have sounded the alarm about the detrimental shortage of necessary medical equipment to treat a skyrocketing number of patients.
The ventilator, a life-saving machine that helps patients breathe, needed for the most severe cases of the respiratory illness COVID-19, has been a central part of the conversation. At the outset of the outbreak, the U.S. had about 160,000 ventilators according to a 2018 analysis — plus an additional 12,700 in a national strategic stockpile. But the Society of Critical Care Medicine has projected that as many as 960,000 people could need emergency ventilation during a severe pandemic.
These bleak ratios have led to increased calls for "social distancing" and "flattening the curve."
As the U.S. now has the highest number of cases in the world — at nearly 200,000 as of Wednesday, according to the Johns Hopkins University tracker — the White House coronavirus task force has projected up to 240,000 Americans could die from COVID-19. In other hard-hit countries like Italy, doctors have been forced to make life-or-death decisions because of a shortage of ventilators. There are already reports of that happening in New York City.
For months, mayors and governors across the country have been calling for more supplies — including ventilators, hospital beds, and personal protective equipment including N95 respirator masks — to be able to treat the outbreak.
Last week, President Trump partially invoked the Defense Production Act after weeks of conflicting messaging and pressure from states. The Korean War-era law allows the president to direct private manufacturers to start producing equipment for the security of the country as soon as possible. In this case, Trump has ordered General Motors to start rapidly producing ventilators.
According to an NBC News report, patients have typically been on ventilators for one to two weeks at the Tulane Medical Center in New Orleans, which is an evolving epicenter of the outbreak in the U.S.
Of the people who have become infected with COVID-19, data has shown the vast majority don't require hospitalization. A World Health Organization report found 80% of COVID-19 patients in China had mild symptoms that they could treat at home.
The effort to develop ventilators in the U.S. has spanned nearly 15 years, according to a New York Times report, as the government attempted to outsource mass production of ventilators as far back as 2006. The goal had always been to produce "cheap, easy-to-use machines," but the failure to produce enough in that decade-plus of time has come under new scrutiny as health care systems fight the coronavirus pandemic.
Here is a running list of organizations that have stepped up or vowed to help mass produce ventilators, which requires using existing labor and transforming factories to create a totally different machine:

General Motors
Even though President Trump accused CEO Mary Barra of lagging behind on efforts to mass produce ventilators, the company had already partnered with Ventec Life Systems, a ventilator company in Washington state before his executive order on March 28. GM has now been transforming its plants to produce ventilators.
Dyson
The UK-based company — known for its advanced vacuum-cleaners, hand dryers, and hair tools — reportedly created a ventilator in just 10 days called the "CoVent."
Virgin Orbit
The billionaire Richard Branson said on March 31 that his rocket-launch company can start rapidly producing ventilators, and is waiting approval from the Food & Drug Administration on a design, according to Bloomberg.
Ford
The automaker said on March 30 that it could make 50,000 simple ventilators in the next 100 days, and then increase that output to 30,000 per month onward, according to CNN.
Tesla
CEO Elon Musk tweeted on March 31 that the company had extra FDA-approved ventilators that it could supply to patients in immediate need for free. The company did not respond immediately to Reuters' request for comment about how many ventilators it could offer or how it would determine priority.