What To Know About Contact Tracing, A Critical Tool For Fighting The Coronavirus
Contact tracing has been used for decades to control viral outbreaks — and experts say it's needed to help fight the coronavirus.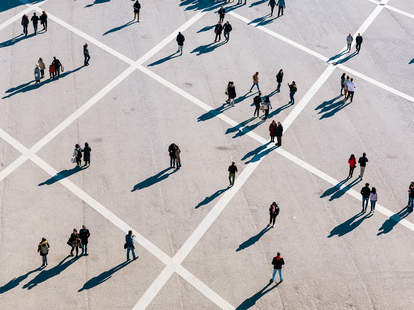 The demand for "contract tracers" is steadily rising as the U.S. looks to gradually reopen amid an outbreak that has infected over one million people across the country.
According to the Centers for Disease Control and Prevention, contact tracing involves public health staff notifying people who have been infected with a virus as well as others with whom they've been in contact. The process also entails talking to those who have been exposed about what they can do to prevent the spread of the virus, including quarantine and isolation, and regularly following up with them to monitor their symptoms.  
With coronavirus cases in the U.S. surpassing 1,000,000, including over 57,500 deaths, according to the Johns Hopkins University tracker, health experts say that contact tracing will be a critical tool in fighting the coronavirus.
Contact tracing has been used for decades to help control the rapid spread of deadly viruses including SARS and measles. Director-general Tedros Adhanom Ghebreyesus emphasized in March the importance of  "early detection and isolation of confirmed cases [and the] identification, follow-up and quarantine of contacts."
In a report released on April 10, the Johns Hopkins Center for Health Security and the Association of State and Territorial Health Officials also estimated that an additional 100,000 additional contact tracers would be needed nationwide to combat the virus. A former CDC director has estimated the U.S. would need 300,000 tracers, while the current CDC director told NPR on April 10 that the agency has 600 in the field.
How Does Contact Tracing Work?
Tracers can reach individuals in a number of ways, including by email, social media and over the phone. After tracers reach someone who has tested positive for the virus and ask them who they've recently been in contact with. The tracers can then contact those other individuals to let them know that they might have been exposed. 
"First, you say - how are you, are you OK?" Partners In Health chief medical officer Dr. Joia Mukherjee, who is helping to lead the state's contact tracing efforts, told NPR's David Greene during an interview. "And then secondly, [you try] to elaborate what quarantine is, because it's different than the social distancing we're doing now — it's more rigorous — and then trying to figure out if they have the ability to quarantine."
Though the process is arduous, Dr. Mukherjee said that receiving a call from an actual human to talk to about exposure and quarantining is often a welcome comfort.
"It's about compassion. And yes, there's an investigatory element. But the most important thing is for people to understand why we're doing it and to really have a bond with people, to say, we're going to have your back. We're here to help," she said.
If an individual contacted by a tracer isn't able to quarantine, Dr. Mukherjee also said they are then referred to a social work assistant who can refer them to resources to help keep the individual and the people around them safe. 
States Are Creating Teams Of Contact Tracers
Mike Pence announced in a private April 20 call with governors that the CDC will be sending teams to all 50 states and territories to boost coronavirus surveillance efforts including contact tracing, ABC reported.
Several states have also started creating teams of tracers. Massachusetts has budgeted $44 million to hire 1,000 people for contact tracing efforts, and California governor Gavin Newson announced plans to train a contact tracing workforce of 10,000. The teams of tracers will be responsible for identifying and communicating with people who have been exposed to the virus, seeing if they are able to quarantine — which is more limiting than social distancing — and asking who else they've been in contact with.
Using Tech To Trace Infections
Tech-based efforts to track people's exposure to coronavirus are already underway in countries such as China, Singapore, and South Korea, though privacy advocates have criticized the systems as invasive. 
South Korea is using data from surveillance cameras, cell phones, and credit cards to determine potential exposure, while Hong Kong has ordered residents to wear electric wristbands to alert authorities when residents leave their homes. In parts of China including Wuhan, where the virus was first detected last year, people must display a government-mandated "health code," which signals immunity (currently a highly debated concept), risk, or likely infection, when going out.
American tech companies are also developing data-tracing tools; — the companies have claimed they'll protect users' data, despite skepticism from privacy advocates. Apple and Google announced on April 10 that they are developing opt-in technology that would allow people to more accurately tell if they've come into contact with someone who was infected. And though tracking potential cases via location data may be a less obtrusive system than the other countries mentioned above, it might also be less effective.
According to a Wall Street Journal report in early April, public health experts said for location tracking to be truly effective, the number of active cases would have to significantly fall to a point where governments and contractors could handle pinpointing individual cases. The experts also said effective tracing can't be done without mass testing resources to properly identify who has been infected. Many countries, including the U.S., are still struggling to provide adequate testing for COVID-19.
How Can I Apply To Be A Contact Tracer?
Contact tracing efforts will likely ramp up in the coming weeks. Centers for Disease Control (CDC) Director Robert Redfield said on April 21 that the next phase in the U.S.'s battle against the virus will entail "early diagnosis, isolation, and contact tracing." 
The National Coalition of STD Directors executive director David Harvey also told CNN that the $2 trillion CARES Act signed into law in March is expected to pay for thousands more contact tracers, which could help some of the many Americans laid off during the pandemic.
And though there isn't a centralized approach to the hiring process, Harvey advises going to your state's health department website to search for open positions, or going to the CDC Foundation's website. Different health departments have different requirements for potential hires, though having a health care background and fluency in multiple languages is helpful.
He added: "No matter what your background, you can be trained to do this work."
Correction: This article has been updated to accurately identify Dr. Joia Mukherjee's role as Partners In Health chief medical officer.