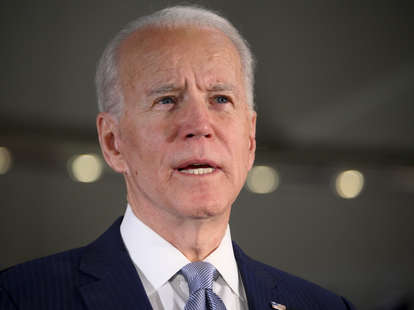 UPDATE: On May 1, Joe Biden publicly denied the allegation made by Tara Reade. Read that story here.
Tara Reade, a former Senate aide who worked in Joe Biden's office in 1993, has accused the former vice president and presumptive Democratic presidential nominee of sexual assault. She filed a report with Washington, D.C. police on April 9 about the incident, which she said took place in '93. The Biden campaign has said the allegation is false and "absolutely did not happen."
In the last several days, multiple news outlets have reported on the allegation after conducting interviews with Reade, Biden Senate staffers, and interns from 1993, and some of Reade's family and friends. Here's what we know about the allegation.
Who is Tara Reade and what is the allegation?
Alexandra Tara Reade worked as a staff assistant in Biden's Senate office from December 1992 to August 1993, when she was 29 years old, according to an official copy of her Senate employment history reviewed by The New York Times. She said that sometime in the spring of '93, she brought Biden a gym bag in the U.S. Capitol building complex. She said Biden then pushed her up against a wall, kissed her neck and hair, propositioned her, and reached under her clothing and penetrated her with his fingers.
Reade has gone on the record before March 2020 about alleged inappropriate behavior from Biden. In March 2019, former Nevada state assemblywoman Lucy Flores wrote about a time when Biden made her uncomfortable at a Democratic campaign rally by kissing her on the head and touching or hugging her. That spurred more women to come forward to talk about their own self-described "uncomfortable" experiences with Biden that included unwanted kissing, hugging or touching. Reade was one of eight women to go on the record about it. The California-based news site The Union published her allegation that Biden touched her shoulders and neck inappropriately. Other news outlets who interviewed her did not publish the allegation from Reade. The AP said it "declined to publish details of the interview at the time because reporters were unable to corroborate her allegations, and aspects of her story contradicted other reporting."
According to The Times and The Washington Post, Reade did not make an allegation of sexual assault at the time, nor did any of the other women interviewed, who have been contacted again since then and said they have nothing to add to the record. There are no other allegations of sexual assault involving Biden.
Reade made her new allegation in a March 2020 episode of "The Katie Halper Show," a podcast hosted by leftist writer and comedian Katie Halper. Since then, she has done interviews with several outlets including the Times, The Post, and the Associated Press.
What has Biden's response been?
Biden deputy campaign manager and communications director Kate Bedingfield said in a statement that the former vice president "firmly believes that women have a right to be heard — and heard respectfully. Such claims should also be diligently reviewed by an independent press. What is clear about this claim: It is untrue. This absolutely did not happen."
In a January 18 tweet, Reade claimed that she "got email threats, [her] website hacked, phone call threats and a threat directly from Biden's office at the time to keep silent." In a statement to NowThis on April 15, Bedingfield said, "We did not and never would never do that. No one from our team has communicated with her in any way." NowThis has reached out to Reade for comment.
After Flores and Reade came forward last year with stories about touching that made them uncomfortable, Biden said in a video addressing the reports that he would be "much more mindful and respectful of people's personal space," adding that "this is my responsibility." He acknowledged that he has a style of interacting with women and men, "young and old," that includes reassuring them or offering support by touching their hands or their shoulders. Biden also acknowledged that in the post-#MeToo era, "social norms have begun to change and the boundaries of respecting personal space have shifted. And I get it."
The Times reported Flores said "she was glad the former vice president was willing to listen and clarify his intentions," but added that there was "a little bit of a disconnect" with the idea that Biden had not before realized his touches made some women uncomfortable. Flores later wrote a New York Times op-ed that said, "Politicians can make mistakes. People should be allowed to evolve. But first, they have to say they're sorry."
Are there corroborating sources for the alleged incident?
The Times and The Post contacted a friend who said Reade told her about the alleged incident at the time. Another friend said she was told in 2008 of "a traumatic sexual incident" that Reade said she had with Biden in '93. Reade's brother spoke to The Post but not The Times, saying his sister had told him Biden "behaved inappropriately by touching her neck and shoulders" when she worked for him in the '90s. At first, he recalled the touching. Washington Post reporters then added, "Several days after that interview, he said in a text message [to the Post] that he recalled her telling him that Biden had put his hand 'under her clothes.'"
Several staffers and interns who worked in the Biden Senate office at the same time as Reade told the New York Times "they did not recall any talk of such an incident or similar behavior by Mr. Biden toward her or any women. Two office interns who worked directly with Ms. Reade said they were unaware of the allegation or any treatment that troubled her."
Reade said in multiple interviews that she complained to other people in the office at the time about "harassment" from Biden, but not the alleged assault. She told the Times, the Post and the AP she raised her concerns with executive assistant Marianne Baker, deputy chief of staff Dennis Toner, and chief of staff Ted Kaufman. Toner and Kaufman told those same outlets they had no specific recollection of Reade or any such conversations with her. Other staff assistants and aides in the office at the time also said they did not specifically remember Reade and noted that she worked there for a brief period of time.
Baker, who worked as Biden's executive assistant from 1982 to 2000, issued this statement via the Biden campaign: "I never once witnessed, or heard of, or received, any reports of inappropriate conduct, period — not from Ms. Reade, not from anyone. I have absolutely no knowledge or memory of Ms. Reade's accounting of events, which would have left a searing impression on me as a woman professional, and as a manager."
Reade has alleged that there was retaliation for her complaint about harassment. The Times reported: "She said office staff took away most of her duties, including supervising the interns; assigned her a windowless office; and made the work environment uncomfortable for her." NYT reporters confirmed with two interns that Reade "abruptly" stopped managing them around April of 1993. The same interns said to the Times that "they never heard her describe any inappropriate conduct by Mr. Biden or saw her directly interact with him in any capacity."
Reade said she also filed a complaint with a Senate personnel office at the time. NYT, The Post and the AP all reported that she does not have a copy of that complaint, nor does the Senate; the AP added that Reade said "Biden's Senate files are currently at the University of Delaware, which has not yet made them public" and that they have been "unable to verify whether a report was made." Under federal law at the time, the complaint should have triggered a formal review process, but there is no record of that happening.
Is there any additional context to the situation?
When Reade came forward with the story of inappropriate touching in 2019, she said Biden was "a male of his time, a very powerful senator, and he had people around saying [his behavior] was okay." When Reade worked in his office, it was not long after the 1991 Supreme Court confirmation hearing in which Anita Hill accused nominated justice Clarence Thomas of sexual harassment. Biden had a key role in those hearings as chairman of the Senate Judiciary Committee at the time, and his and Congress' treatment of Hill accelerated a national conversation about sexual harassment in the workplace that lasts to this day. Biden has been criticized for how he handled Hill's allegations, and he called her last year before launching his presidential campaign to "express regret."
The Biden-Hill treatment came up again in 2018 during Supreme Court Justice Brett Kavanaugh's confirmation hearing, when Dr. Christine Blasey Ford testified under oath that Kavanaugh sexually assaulted her in high school. At the time, a spokesperson for Biden said the former vice president believed a vote on Kavanaugh's confirmation should be delayed until the Judiciary Committee could "undertake a thorough and nonpartisan effort to get to the truth, wherever it leads," because "Professor Ford deserves a fair and respectful hearing of her allegations."
When responding to Reade's most recent allegation, campaign spokeswoman Bedingfield noted that Biden has "dedicated his public life to changing the culture and the laws around violence against women," pointing to his role in co-sponsoring the 1994 Violence Against Women Act, which he is pushing the Senate to reauthorize.
Questions of timing have been raised because Reade came forward with the new allegation when the Democratic primary race was narrowing down to Biden and Sen. Bernie Sanders, whom Reade has been publicly supporting on her Twitter account since January. Reade, who voted for Obama-Biden in both 2008 and 2012, has said to multiple outlets that her political preferences did not influence her decision to speak publicly about the alleged assault, and that she "didn't have the courage to come forward" about it in the past.
President Donald Trump, Biden's opponent in the general election race, has been accused of sexual assault and misconduct by at least 24 different women.