What To Look Forward To In 2020
Naturally, we have a top 20 countdown for you.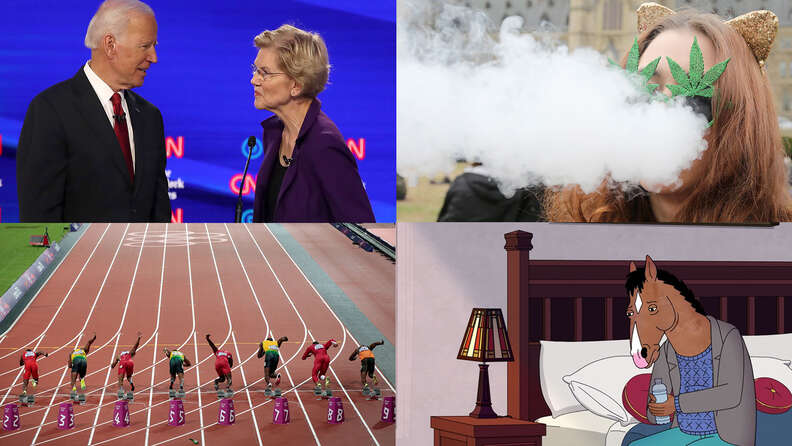 It's time for 2020, and there is no shortage of *major* stuff going on. Here we go:
20. Gaming Will Look Different in 2020
Xbox unveiled its next-gen console in a surprise announcement at the Game Awards in December.
The Xbox Series X
will arrive in time for the 2020 holidays and will be "the most powerful Xbox ever," with more memory & better graphics. And it's not the only one coming: Sony has also announced that the
PlayStation 5
will hit shelves ahead of the 2020 holiday season. As of right now, the consoles will likely be
very similar performance-wise
.
19. 2020 Is a Jackpot for Holidays
All the stars align for holiday fun in 2020
! Valentine's Day and Christmas will fall on a Friday, while the 4th of July and Halloween will fall on a Saturday — and the New Year's holiday starts with a three-day weekend!
18. There Will Be More Legal Cannabis Victories
As more states legalize adult consumption of either medical or recreational cannabis, its sales continue to grow — some even predict legal cannabis sales will top the NFL's yearly revenue by 2020. States like New York, New Mexico, Minnesota, and Illinois may also fully legalize cannabis usage sometime next year.
17. The XFL Is Making a Comeback
The football league, which lasted just one season back in 2001, will return with 8 teams right after Super Bowl 54 wraps up. Games will be
on both Saturdays and Sundays
until playoffs begin in mid-April, and each one will be nationally televised.
16. NASA's Mission to Put People on the Moon Launches in 2020
NASA has plans to put humans back on the moon — and
the first phase of that mission
is slated to launch as early as November 2020. For Artemis 1, NASA will send an unmanned capsule into space to go around the moon and back. Phase 2, Artemis 2, will be the first test of the capsule with an onboard crew. It will likely take a similar path to Artemis 1. In 2024, if phases 1 and 2 go as planned, Artemis 3 will be the first crewed mission to the lunar surface in the 21st century. These missions will refine the technologies needed to put humans on Mars.
15. It Will Be The 50th Anniversary of Earth Day
April 22, 1970 marked the first Earth Day, with over 20 million Americans participating in different ways to advocate for the environment. 2020 will be the 50th anniversary of Earth Day, and in that 50 years, the day has become
the planet's largest civic event
.
14. The 2020 World Expo Will Be Hosted In Dubai
The World Expo, held once every five years, celebrates global relations and different nations' achievements. Next year's expo, "Expo 2020," will be hosted by Dubai and feature
173 days of programming
.
13. A Solar Eclipse Will Happen
A total solar eclipse will occur on December 14, 2020. Though the eclipse and its totality will be mostly visible in certain parts of South America, you can be hundreds of miles away from there and
still potentially capture a glimpse of it
.
12. This Building Will Break Records
The world's tallest building is
set to open in 2020
. Saudia Arabia's Jeddah Tower will be 3,280 feet tall and will take the title away from the current tallest skyscraper, Dubai's iconic Burj Khalifa. It will cost an estimated $1.4 billion to build and will be comprised of homes, offices, hotels, and retail shops.
11. A New Hunger Games Book Will Be Released
Fans of the bestselling series by Suzanne Collins will be able to enjoy a new installment from "The Hunger Games" series. The book, which is scheduled to be
published in May 2020
, will take place 64 years before the original novel did. Scholastic revealed the intensely anticipated book's cover art in October, as well as its title: "The Ballad of Songbirds and Snakes."
10. 2020's Shaping Up to Be Big Year for Film
2020 is going to be a big year in film. Disney has 23 movies coming out, including the live-action remake of "Mulan" and a new Pixar original called "Onward." As for sequels and spin-offs, there's "Bad Boys for Life," "Legally Blonde 3," "A Quiet Place: II," "Birds of Prey," and "Black Widow." Lin-Manuel Miranda's first Broadway play, "In the Heights," is coming to the big screen, and Roald Dahl's "Witches" is getting a reboot.
9. Shows That Are Ending in 2020
Netflix is ending popular shows like "BoJack Horseman," "GLOW," and "13 Reasons Why," to name a few. Meanwhile on the broadcast networks, three long-running series are also wrapping up. Both "Criminal Minds" and "Supernatural" are coming to an end after 15 seasons, while "Modern Family" (which has been nominated for 80 primetime Emmys) is ending after 11. Some other fan faves like "The Good Place" and "Schitt's Creek" are also saying farewell.
8. 5G Will Be More Widely Available
5G will allow users
to download content, connect, and stream videos on their devices even faster. And while 5G is already available on some devices, it isn't available to many of us yet. Some carriers have already started running 5G trials, but U.S. carriers are projecting full 5G implementation in 2020.
7. 2020 Is a Leap Year
If 365 days doesn't feel like enough time to accomplish your goals and resolutions in 2020, you're in luck. This year is a leap year, meaning there will be an extra 24 hours to get it all done. They occur every four years and result in a whole extra day: February 29. Oh, and happy birthday to the
187,000 people in the U.S.
who were born on a leap day — we know you don't get to celebrate too often.
6. More Companies Are Going Plastic Free
More and more companies are making pledges to reduce their single-use plastic output. Some that have vowed to drastically cut down their plastic usage in 2020 are
Blue Bottle cafes
,
IKEA,
and
Starbucks
.
5. The UK Plans to Leave EU by January 31
The election is over, the Conservative Party
secured a majority of seats,
and Brexit is scheduled for January 31. Prime Minister Boris Johnson already has a deal with the EU, but it still must be passed by Parliament. If it isn't passed,
the UK could have a no-deal Brexit
, putting them at risk of a recession. If it is, the UK can begin making trade deals with other countries.
4. The U.S. Has Pledged to Get Energy from Renewable Resources by 2020
The U.S. military
pledged years ago to rely on renewable energy for 50% of its power by 2020. And this isn't the first time the military has advocated for clean energy, they reportedly purchase a huge number of electric cars.
3. The 2020 Census Will Take Place
Once every decade, the country counts every United States resident, which is valuable information for redistricting, determining congressional seats, and distributing federal funds. Since a state's census numbers can determine the amount of federal money allocated, many states pour a lot of money and resources into getting accurate census numbers —
though some aren't spending money at all
. If you're interested in learning more about the upcoming census, you can visit The
United States Census Bureau
website for more.
2. Ready for Tokyo 2020?
The 2020 summer Olympics begin on July 24, and they are already shaping up to be the biggest event of the summer. Karate, surfing, sport climbing, and skateboarding
will make their debuts
, and baseball, softball, and Madison cycling will make their comebacks after being dropped following the 2008 games. This year's iconic torch and all of the medals will be made using recyclable materials.
1. The Biggest Event of the Year Is…
The biggest event of the year is, arguably, the 2020 election… and President Donald Trump's impeachment trial in the Senate in January. Politics will take over our memories of the year just like in 2019 (well, for most of us). Americans will take to the polls on November 3 to decide who the President of the United States will be for the next four years. More than 28 Democrats started out, but just 15 are still standing. The Iowa caucus is on February 3 and the first primary election in New Hampshire on February 11 will shrink the group even more. Register to vote here.