What's Going On With The Coronavirus Vaccine?
More than 100 COVID-19 vaccines are currently in development, with one from Oxford University gearing up for Phase 2 and 3 of human trials.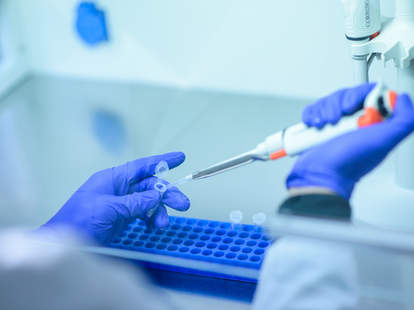 Health experts around the world are working tirelessly to create a vaccine for COVID-19—the BBC reports that more than 100 vaccines are being developed worldwide—and one lab in the UK is partnering with the U.S. to accelerate its trials on humans. 
On Friday, Oxford University announced that Phase 2 of a vaccination trial would be underway after it secures more than 10,000 volunteers. Unlike Phase 1, which took place in April, volunteers in Phase 2 will have an expanded range in ages, including people over the age of 70 and children from 5 to 12-years-old. 
On Thursday, the U.S. Department of Health and Human Services announced it would also be collaborating with AstraZeneca in the development of Oxford's trial vaccine. 
According to AstraZeneca, Oxford's vaccine has progressed rapidly and hopes to create at least 300 million doses in the U.S. by January 2021. The plan is to distribute the first round of doses by October 2020.
In a statement from AstraZeneca, the company said it received funding to create 400 million doses worldwide, along with manufacturing capacity for one billion doses. The company also said it will be working with another institution in India for distribution. 
The Biomedical Advanced Research and Development Authority (BARDA), which is part of HHS, will be helping to fund the vaccine with AstraZeneca. The vaccine, called AZD1222, is the fourth candidate that BARDA and HHS have supported. BARDA is also funding other vaccine trial efforts, including one from a French company called Sanofi. 
In the U.S., Phase 3 of clinical trials for the Oxford vaccine are set to begin with 30,000 volunteers. 
Another company, Massachusetts-based Moderna, said earlier this week that it had  success with vaccine trials. The company said eight volunteers from the first round of trials were shown to develop antibodies that would typically protect people from the virus. However, researchers haven't tested whether the vaccine can prevent people from being infected with COVID-19 or not. 
Experts are still hesitant about promising a vaccine too early, especially in light of President Trump's "Operation Warp Speed" initiative, which has set aggressive goals for vaccine development. History has shown the dangers of undeveloped vaccines. In vaccine development for the measles and respiratory syncytial virus (RSV), children that were treated with early versions of the vaccine later contracted accelerated versions of the viruses, according to The Association of American Medical Colleges. 
The AAMC also writes: "Vaccine testing proceeds slowly because the human body responds slowly: It takes weeks to produce the antibodies that provide immunity, and it can take longer to show harmful side effects."  
Peter Marks, director of the FDA's Center for Biologics Evaluation and Research, told Axios this month during an online forum about biomedical innovations for coronavirus that "Nobody is looking to skip any parts of the development program to lead to a safe and effective vaccine. We have to make sure that whatever comes out of this process meets our high standards for safety and efficacy for vaccines." Marks added: "That said, in this particular crisis, we need to try to move through very quickly to get there, working meticulously, because there is just so much at stake here."