What's Going On With The COVID Relief Bill And The $15 Minimum Wage?
Democratic leaders faced a major setback this week in the fight to increase the federal minimum wage to $15 an hour.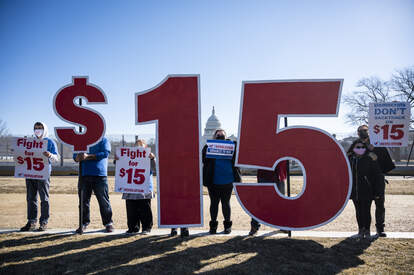 Democratic lawmakers are coming back with a "Plan B" that targets corporations after a proposal to raise the national minimum wage to $15 an hour as part of the congressional COVID-19 relief package was shot down — by an unelected official.
On Thursday, Senate parliamentarian Elizabeth MacDonough, who serves in the unelected, nonpartisan role, ruled that the wage increase under President Joe Biden's proposed American Rescue Plan violates certain budgetary rules, according to multiple outlets. NPR reported MacDonough said the increase in minimum wage "doesn't meet the requirements" of budget reconciliation, which allows Congress to quickly pass legislation in the Senate.
Sen. Bernie Sanders (I-VT) and Sen. Ron Wyden (D-OR) announced they were working on another solution that would target large corporations including Walmart and McDonald's that do not pay their employees at least $15 an hour, despite making billions of dollars in profits last year. Their plan includes a "tax penalty" that corporations would face if they don't pay their workers a certain wage, Wyden said.
"In the coming days, I will be working with my colleagues in the Senate to move forward with an amendment to take tax deductions away from large, profitable corporations that don't pay workers at least $15 an hour and to provide small businesses with the incentives they need to raise wages," Sanders said in a statement.
According to CNBC, Wyden explained that the plan is to penalize corporations with a 5% tax increase if they aren't paying workers a certain wage. The number would also go up over time, Wyden said.
"We couldn't get in the front door or the back door, so we'll try to go through the window," Wyden said. "While conversations are continuing, I believe this 'plan B' provides us a path to move forward and get this done through the reconciliation process."
The national minimum wage has been $7.25 since 2009. Several states have raised the minimum wage in recent years, including New York and California, which were the first to raise the hourly wage to $15.
Following the parliamentarian's decision on Thursday, Democratic leaders including President Biden, Senate Majority Leader Chuck Schumer (D-NY), and Sanders all expressed disappointment.
In a statement Thursday, the White House said Biden is "is disappointed in this outcome" and that the president will "work with leaders in Congress to determine the best path forward because no one in this country should work full time and live in poverty."
Schumer echoed a similar disappointment in a statement, saying: "We are not going to give up the fight to raise the minimum wage to $15 to help millions of struggling American workers and their families."
Sanders released a video message Friday on Twitter saying he "strongly disagrees" with MacDonough's decision.
"It turns out that an unelected person who is called the parliamentarian of the Senate can determine whether the minimum wage provision was germane to the overall bill," Sanders said. "She ruled that it was not, it was not. And I strongly disagree with her."
Sanders continued: "You've got an unelected parliamentarian using, because of the Senate rules that we have, saying that we cannot do it, denying 30 million Americans a pay raise."
Rep. Ilhan Omar (D-MN), Rep. Alexandria Ocasio-Cortez (D-NY), and Sen. Elizabeth Warren (D-MA) also criticized the decision, with Omar calling to "abolish the filibuster" and "replace the parliamentarian."
"Preserving the filibuster is not worth letting millions of people in this country go hungry, sleep in their cars, or struggle to afford baby formula," Ocasio-Cortez said.