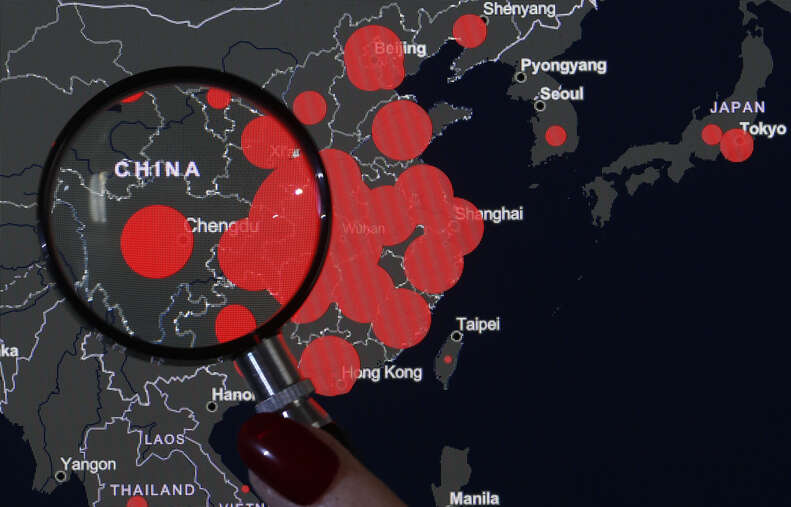 The new coronavirus has now infected more than 3.5 million people globally—and we still don't know where it came from.
Scientists have not reached a conclusive answer on its origin, which is one reason why conspiracy theories and misinformation have run rampant. Government officials with political agendas are further muddying the waters—just look to the Chinese Communist Party pushing out misinformation (like previous claims that the virus originated elsewhere), while parts of the U.S. government search for any evidence in an attempt to blame China entirely for the outbreak.
On May 3, U.S. Secretary of State Mike Pompeo claimed there is "enormous evidence" that the virus originated in a biomedical lab in Wuhan, but did not show or cite what that evidence is. Many scientists have concluded such a theory is unlikely.
First, why does this all matter?
Leave it to the scientists to explain — it's not just a question of curiosity about how this once-in-a-lifetime global pandemic started, but of necessity. "The outbreak can be contained and controlled, but if we don't know the origin in the long term then this virus can continue to spill over," said Dr. Peter Daszak to the New York Times. Daszak is president of the global nonprofit EcoHealth Alliance and has worked in China for 15 years "studying diseases that jump from animals to people," according to NYT.
What are the scientific theories so far regarding the origin of the new coronavirus?
1) Bats: most likely yes
Scientists and public health experts widely agree that the new coronavirus came from bats — possibly a Chinese horseshoe bat, a type of bat that weighs one ounce or less. It's remarkable to think a disease carried by something so small could spread to infect more than 3 million people worldwide in a matter of months, but bats are known vectors of such viruses, specifically coronaviruses. According to Nature Journal, "a survey of thousands of animals across Africa, Asia and the Americas" proved that "bats are the major animal reservoir for coronaviruses worldwide," noting that they have been linked to previous SARS and MERS outbreaks.
2) Seafood market in Wuhan: probably no
Given what we know about bats, and the fact that some of the earliest confirmed cases were traced back to a "wet market" or seafood market in Wuhan, China, an early emerging theory held that the market was where the animal-to-human transmission first occurred. However, further scientific study showed that the first known case of the new coronavirus in China did not come from that market. Scientists are still searching for the origin of the first transmission to humans.
What we do know about the market: samples were taken showing that humans at the market tested positive for COVID-19 and likely passed it to each other. Dr. Daniel Lucey, an infectious diseases physician and professor at Georgetown University, says we still need more information about animals at the Wuhan market. "No infected animal has ever been reported," Dr. Lucey wrote on April 27. He says the positive environmental samples taken from the market "may have come from infected persons." Lucey also says no animal samples from the market have been released by the Chinese government, and he's calling on officials there to share more information at the upcoming WHO World Health Assembly on May 17-21.
3) An intermediary animal: probably yes, but which one?
Though it's widely accepted that bats are the likely source of the coronavirus, whether or not a bat transmitted the disease directly to a human is still an open question—with many scientists leaning toward no. Many experts agree that "the new pathogen began as a bat virus that evolved naturally, probably in another mammal, to become adept at infecting and killing humans," according to the New York Times. The World Health Organization says it "most likely emerged from bats via an intermediary animal in the last quarter of 2019."
An early theory was that the virus was passed from bats to pangolins before it was transmitted to humans. Pangolins, "the most illegally traded mammal in the world" according to the International Union for Conservation of Nature, were not listed in inventory for the Wuhan seafood market, but could have been left off purposely to avoid external scrutiny. Pangolins have been sold at markets in the region before. According to Scientific American, some research teams "reportedly uncovered SARS-CoV-2-like coronaviruses in pangolins that were seized in anti-smuggling operations in southern China," in a study posted in late February.
However, another study concluded that pangolins were unlikely the intermediate animal, "because samples of similar viruses taken from pangolins lacked a chain of amino acids seen in the virus now circulating in humans," according to The Guardian. They also cite another report that "looked at a characteristic of the virus that evolved to enable it to latch on to human cells. Pangolins were able to develop this characteristic, but so were cats, buffalo, cattle, goats, sheep and pigeons." So whether or not the virus transmitted from bat to pangolin to humans remains unresolved.
Scientists say there are many ways the animal-to-human transmission could have happened outside of the seafood market, as cited by The Times: "at a farm where wild animals are raised, through accidental contact with a bat or another animal that carried the virus, or in hunting or transporting animals."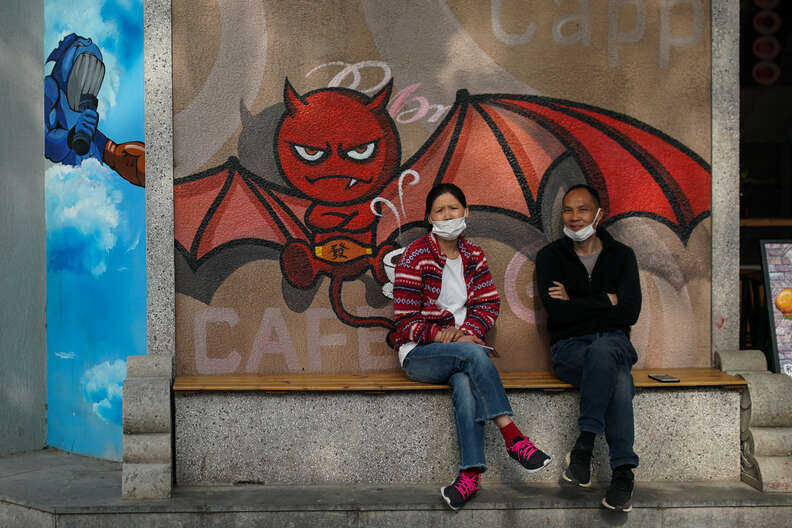 So when and where did the first human cases of COVID-19 happen?
The first known case of a human contracting COVID-19 could have been a 55-year-old from China's Hubei province in November 2019, according to government data cited by the South China Morning Post. The actual date could have been even earlier, but the records viewed by SCMP trace the earliest known case back to Nov. 17. Most news reports have cited December as the beginning of the known timeline of the disease, because the Wuhan government confirmed on Dec. 31 that it was treating 59 patients with what was considered a "mystery pneumonia-like illness."
On March 13, 2020, the same day that President Trump declared a national emergency in the U.S. because of the pandemic, the SCMP published this piece:
"Chinese authorities have so far identified at least 266 people who were infected last year, all of whom came under medical surveillance at some point. Some of the cases were likely backdated after health authorities had tested specimens taken from suspected patients.
From [November 17, 2019] onwards, one to five new cases were reported each day. By December 15, the total number of infections stood at 27 – the first double-digit daily rise was reported on December 17 – and by December 20, the total number of confirmed cases had reached 60."
Since the earliest cases of COVID-19 were detected in November, the Wuhan seafood market in December could not have been the origin of the virus. But given the disease's ability to rapidly spread by human-to-human contact, a crowded seafood market could have accelerated its transmission. The market was closed by January 1, 2020.
A French hospital recently retested some samples from patients who were sick in December but who tested negative for the flu at the time, and found one who was positive for COVID-19 on Dec. 27. That means the virus was in Europe earlier than previously thought, which dovetails with the report that it was already spreading in China in November.
What's up with this conspiracy theory about the virus coming from a Chinese lab?
There is no evidence that the new coronavirus came from a Chinese laboratory, but it's "the conspiracy theory that will not go away" for a number of reasons.
First, there is a lab called the Wuhan Institute of Virology (WIV) that studies bat viruses and their transmissibility to humans. The U.S. government and scientists have given funding and training to the lab in the previous years, before the pandemic, and the lab is "part of a coordinated global effort to monitor viruses," according to the New York Times.
Second, American officials have in the past few years warned about "safety issues" at the lab. Though WIV was the first lab in China to achieve "the highest level of international bioresearch safety" in 2015, according to The Washington Post, visiting U.S. officials had safety concerns when they visited a few years later. The U.S. Embassy in Beijing sent "U.S. science diplomats" to visit WIV in January 2018, and embassy staff were concerned enough about safety issues at the lab that they mentioned security concerns in warnings sent back to the U.S. State Department.
Josh Rogin at The Washington Post obtained a diplomatic cable dated January 19, 2018, in which U.S. embassy staff reportedly wrote of how "during interactions with scientists at the WIV laboratory, [their embassy colleagues] noted the new lab has a serious shortage of appropriately trained technicians and investigators needed to safely operate this high-containment laboratory." According to Rogin, "the first cable also warns that the lab's work on bat coronaviruses and their potential human transmission represented a risk of a new SARS-like pandemic." The embassy staff requested the U.S. help support the lab to ensure that the Wuhan Institute of Virology was following correct procedures and taking all the necessary precautions.
"No extra assistance to the labs was provided by the U.S. government in response to these cables," Rogin wrote. The State Department declined to comment on the cables to the Post, though in late April and early May, Secretary of State Pompeo complained that China still hasn't given American officials access to the lab for an investigation, and noted potential issues with Chinese labs.
"We still haven't gained access, the world hasn't gained access to the WIV there [in China]. We don't know precisely where this virus originated from," Pompeo said at a State Dept. news conference on April 29.
It's important to note that Pompeo and the Trump administration have political motivations to pin the outbreak on a lab accident or experiment gone wrong in China. As the economy and stock market have tanked, the crisis response is so far defining Trump's reelection campaign. The president and his administration have used the pandemic as a reason to criticize China, with whom the government has had an ongoing trade war.
The administration has also repeatedly deflected blame for the widely criticized, botched domestic response, which has led the U.S. to more than 1.5 million confirmed cases — a third of all confirmed cases worldwide. An April 30 New York Times report says the U.S. intelligence community has been pressured to link the virus to China. "Some analysts are worried that the pressure from senior officials could distort assessments about the coronavirus and be used as a weapon in an escalating battle with China," the Times reported.
The virus was not made by humans, it is not a bioweapon, and it hasn't been genetically engineered or modified
The scientific and intelligence communities agree that the virus was not made by humans and not genetically engineered or modified in a lab, either as a bioweapon or otherwise.
The Office of the Director of National Intelligence released this unusual statement on April 30:
The distinction Trump officials appear to be drawing does align with what a University of California-Berkeley scientist told Rogin, the Washington Post columnist who obtained those 2018 State Dept cables. The scientist said the virus wasn't manufactured, but that's "not the same as saying it didn't come from the lab, which spent years testing bat coronaviruses in animals." The theory Pompeo and some officials seem to be pushing is that the Chinese government is trying to cover up a lab accident. But the lab vehemently denies such theories and says it has done the work to prove it.
Wuhan Institute of Virology vice director Yuan Zhiming said in April, "There is no way this virus came from us. We have a strict regulatory regimen, we have a code of conduct for research, so we are confident of that."
The institute's deputy director Shi Zhengli, a virologist known as "bat woman" for her 16 years of detailed research into bat viruses, even worried herself about the possibility of the new virus coming from their lab when she first heard about it, according to Scientific American. Beijing-based reporter Jane Qiu wrote: "[Shi] frantically went through her own lab's records from the past few years to check for any mishandling of experimental materials, especially during disposal." Ultimately, she "breathed a sigh of relief when the results came back: none of the sequences matched those of the viruses her team had sampled from bat caves."
"That really took a load off my mind," Shi told the magazine. "I had not slept a wink for days."
Independent scientists have come to that same conclusion. In a research paper published in Nature Medicine in March, five scientists wrote "we do not believe any type of laboratory-based scenario is plausible." Other experts have described the chances as "slim" and "highly unlikely."
The Chinese government hasn't done itself any favors by refusing to cooperate with certain U.S. and WHO requests. The government has an established record of first censoring news about and then downplaying the virus in its early days, perhaps worsening the global outbreak or delaying an appropriate scientific and medical response to it. A WHO representative told Sky News on April 30 that they "have not been invited to join" China's investigation.
Some Chinese officials have done some conspiracy theorizing of their own, floating the baseless claim that the virus actually came from U.S. military members visiting Wuhan in October.
Two main questions about the origin of the virus remain unresolved: How was it transmitted to humans? And when did that first transmission take place?
Despite the animosity between the Chinese and U.S. governments, Chinese and U.S. scientists say they are working together to resolve the open questions.
A final, simple word on the importance of finding conclusive results from "bat woman" Shi of the Wuhan Institute of Virology: "Bat-borne coronaviruses will cause more outbreaks. We must find them before they find us."