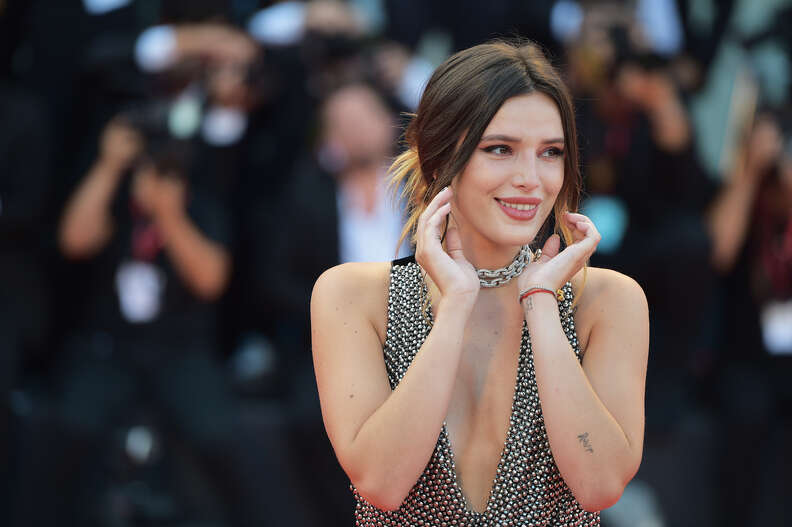 Sex workers are blaming Bella Thorne for a recent policy change that caps their earnings on independent content creator site OnlyFans. The actor reportedly amassed millions of dollars just days after joining the site and then received a mass influx of refund requests for a photo that users claim she falsely advertised.
The company has since denied the policy change was because of one user.
On Saturday, the 22-year-old former Disney Channel star-turned-musician and director, issued an apology to those who she "hurt" after joining the site. In a series of tweets, Thorne said she was meeting with the company "about the news restrictions" and said her intention with joining was "to help with the stigma behind sex."
Thorne announced on August 19 that she was joining OnlyFans, but said she wouldn't be "doing nudity" on her account. In less than a week, the actor made more than $2 million, the Los Angeles Times reported. Thorne claimed she would put earnings toward charity and her production company. She also said she was using the experience as part of research for a documentary with filmmaker Sean Baker.
In a statement on August 28, Baker denied claims that he was working on a film about Onlyfans or "using Bella Thorne as research," though he added that they did have a conversation with Thorne about a possible collaboration.
"I would like to make it clear that the news of me making a film (documentary or fiction narrative) about OnlyFans and using Bella Thorne as research is false. I'm NOT attached to this project," Baker wrote. "On that call, I advised her team to consult with sex workers and address the way she went about this as to NOT hurt the sex work industry. This has been the extent of my involvement."
Creators are now accusing Thorne of "ruining" the app for sex workers who rely on OnlyFans as their main source of income after she "scammed" subscribers.
The platform is used by creators who earn money by providing content directly to subscribers who pay monthly fees, tips, and pay-per-view (PPV) fees. While the app is mostly popular among sex workers and adult entertainers, it also counts musicians, fitness instructors, and other influencers as creators who earn money.
According to several widely-shared tweets from content creators, OnlyFans changed its policies around the same time that Thorne charged $200 for a PPV photo that she advertised as "naked," but was not. Creators claimed that purchasers requested their money back from the app in such great numbers that OnlyFans changed its policy.
Creators have said that OnlyFans now limits them from charging more than $50 for a PPV along with capping tips at $100. The policy also states that creators have to wait 30 days instead of seven to receive a payout. Creators are blaming Thorne for the new policy change, claiming it's so the app can "pay all those people back and prevent such a massive chargeback problem in the future."
In a statement to NBC News, OnlyFans denied that it made the change because of "one user."
"Transaction limits are set to help prevent overspending and to allow our users to continue to use the site safely," the statement said. "We value all of the feedback received since this change was implemented and we will continue to review these limits
After the policy change, sex workers and creators have said Thorne "hurt our ability to provide for ourselves." Other critics have called Thorne a celebrity "cosplaying" as a sex worker.