A Widely Shared Video Of An Anti-Mask Rally Is Being Mistaken For Satire
A local news story from August of anti-maskers in Utah is circulating on the internet, and people are shocked it's not an "SNL" skit.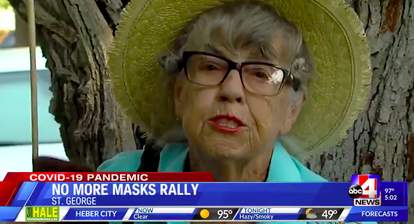 Footage of an anti-mask rally in Utah has been viewed millions of times online this week, as viewers gawk at the protesters' misinformation and call the demonstration "A+ satire" and a "bad episode of Parks and Rec."
The footage was shot by an ABC station in Utah, which covered the "No More Masks" rally on August 21. Hundreds of anti-mask protesters can be seen outside a government administration building in St. George, demanding an end to mandated facial coverings.
At the rally, people made statements that public health experts have widely debunked, including that the virus is a hoax or that people can't be asymptomatic carriers of COVID-19.
Some protesters wore shirts that said "I identify as a fresh air breather," while one woman compared wearing a mask to the death of George Floyd at the hands of Minneapolis police.
"When George Floyd was saying, 'I can't breathe,' and then he died," St. George resident Shauna Kinville told ABC4 News. "And now we're wearing a mask, and we say, 'I can't breathe,' but we're being forced to wear it anyways."
Anti-mask rallies and protests over restrictions in several states have occurred since COVID-19 made its rapid spread across the country earlier this year—infecting 6.5 million people in the U.S., including at least 195,000 deaths, according to Johns Hopkins.
The video of the rally has made its way to viral status, and several people had strong reactions to the attendees: