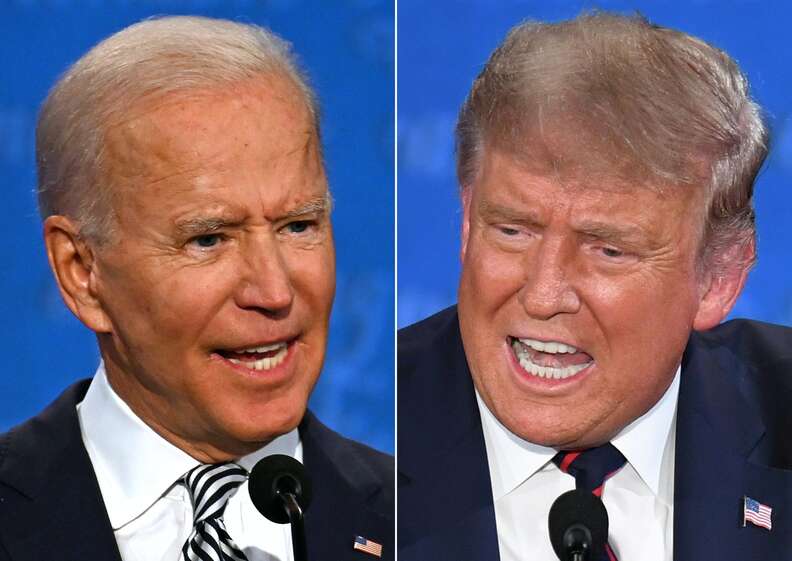 The first presidential debate of 2020 was off to a tense start as former Vice President Joe Biden and moderator Chris Wallace became openly frustrated by President Trump continuously interrupting.
Within the first 20 minutes of the debate, Biden was unable to answer a question about the Trump administration nominating Judge Amy Coney Barrett to the Supreme Court and Biden's stance on packing the court as Trump continually interrupted and made comments as Biden tried to answer.
"Vote now," Biden said.
"Are you gonna pack the court?" Trump could be heard saying. "He doesn't want to answer the question."
Biden and Trump started arguing and finally, Biden said, "Will you shut up, man?"
"This is so unpresidential," he continued.
Wallace ended the segment immediately after.
"That was really a productive segment, wasn't it?" Biden said. "Keep yappin', man."
After the tense moment, the phrase "WILL YOU SHUT UP MAN"" started trending on Twitter. Several people applauded Biden for snapping back at him.
Later in the debate, moderator Wallace tried to get the discussion back on track and said "I think the country would be better served if we allow both people to speak with fewer interruptions."
"I am appealing to you to do that," Wallace said. "And him, too," Trump responded, indicating Biden, to which the Fox News host said: "Well, frankly you've been doing more interrupting than he has."